The Chiltern App for iPhone and Android.
*Please note that tickets will occasionally need to be checked by station staff.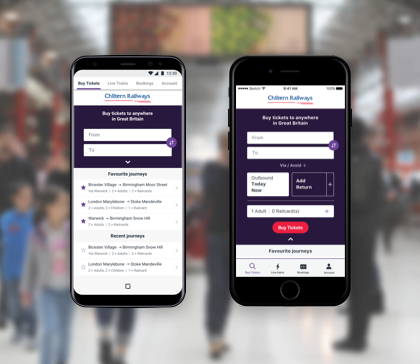 Quick tickets sent to your mobile
Available for all our Advance fares and across our commuter network and from the following:
London
Birmingham
Warwick Parkway
Buy tickets to anywhere in the UK
View times and buy tickets for all train companies in the UK. Tickets can be picked up from ticket machines at your chosen station
Book car parking
Download the latest version of the Chiltern Railways and RingGo car parking apps to book car parking from your rail ticket.
Book in advance and avoid the ticket office queues
Save favourite journeys
Save your most recent journeys for easy purchase
View train times
Access all the latest travel information including platform numbers using the live departure boards
No booking or card fees
Like on our website, we never charge card or booking fees
Safely stored, easily accessed
No need to worry about deleting your mobile tickets or reference numbers, as they're safely stored in the app ticket wallet. But don't forget to charge your battery before you get to the station.