If you have any questions, want to claim a refund or compensation, would like to make a complaint or have any comments, fill in the form at the bottom of this page. If you prefer you can phone or write to us, our contact details are shown below.
We aim to respond within 10 working days, but it may take longer than this.
For more information on our service standards and how we put your needs first, take a look at our Passenger Charter, speak to our managers at the Meet the Managers events or tweet us
Lost Property
There is now a separate form to register your item as lost property. Please click www.chilternrailways.co.uk/lost-property-online-form and register your item here.
Compensation for delays
If you are delayed on a Chiltern Railways journey and the cause of the delay was within the control of the railway industry you can claim compensation. Chiltern Railways offers passengers the right to claim for delays using our own delay compensation scheme. Click here for further information on Delay Compensation.
You do not have to claim using this scheme, but if you do you must make a claim within 28 days of the relevant journey. You may also be entitled to claim for other losses caused by Chiltern Railways and further guidance is available in the National Conditions of Travel and in our Passenger Charter.
To make a claim simply fill out the form at the bottom of this page and attach a photo of your ticket, cut in half diagonally. (See the example below).
If you are travelling on a single or return ticket, please do not put it through the ticket barrier at the end of your journey as you will need to submit it to make a claim.
For more information on compensation click here.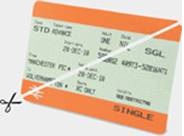 If you currently hold a Season Ticket then please attach a photo but there is no need to cut your ticket.
CONTACT DETAILS
Customer Services (Mon-Fri 08.30 to 17.30)
Customer Services
Banbury ICC
Merton Street
Banbury
Oxfordshire
OX16 4RN
Phone: 03456 005 165
Fax: 01926 729 914

For Compensation claims use:
FREEPOST Chiltern Railways
Lost Property (Mon-Fri 12.00 to 20.00)
Chiltern Railways Lost Property
Marylebone Station
London
NW1 6JJ
Phone: 03456 005 165
Car Parking
APCOA Parking (UK) Limited
PO Box 222
Lowton Way
Sheffield
S98 1NX
web: www.apcoa.co.uk/
online agent: www.apcoa.co.uk/contact/
Ticket Enquiries (Mon-Sun 07.00 to 22.00)
Phone: 03456 005 165
Press Option 1 then Option 2
Press Office (Mon-Fri 09.00 to 17.30)
For press information or interviews, please contact the Chiltern Railways Press Office:
email: [email protected]
Filming Office (Mon-Fri 09.00 to 17.00)
For filming enquiries please contact our filming team:
web: www.chilternrailways.co.uk/filming
Charity Collections
To find out about collecting at our stations, please visit our Charity Collections page
National Rail Enquiries
Tel:03457 484950
Visit www.nationalrail.co.uk

Complaints Handling Procedure
Our complaints handling procedure is available here
If you're not happy with how a complaint has been handled we have further guidance here

Registered Office Address
1 Admiral Way
Doxford International Business Park
Sunderland
SR3 3XP
Fields marked * are mandatory.