Contact Us
Please email your queries, refund requests or comments using the form at the bottom of the page. If you prefer to call or write to us, please find our additional contact details below. 
Our aim is to respond within 10 days.  Due to recent high volumes of correspondence we must advise that at present, response times may be in excess of this.
For further information on our standards and how we put your needs first, take a look at our Passenger Charter, speak personally to our managers at the Meet the Managers events or tweet us
If your journey with us was delayed by 30 minutes or more, you may be entitled to compensation. This can be claimed by filling in the form at the bottom of this page and attaching a photo of your ticket. Please note that your ticket must be cut diagonally prior to taking the picture (example below).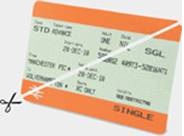 If you currently hold a Season Ticket then please attach a photo but there is no need to cut your ticket.
CONTACT DETAILS
Customer Services (Mon-Fri 08.30 to 17.30)
Customer Services
Banbury ICC
Merton Street
Banbury
Oxfordshire
OX16 4RN
Phone: 03456 005 165
Fax: 01926 729 914
Lost Property (Mon-Fri 12.00 to 20.00)
Chiltern Railways Lost Property
Marylebone Station
London
NW1 6JJ
Phone: 03456 005 165
Ticket Enquiries (Mon-Sun 07.00 to 22.00)
Phone: 03456 005 165
Press Option 1 then Option 2
Press Office (Mon-Fri 09.00 to 17.30)
For press information or interviews, please contact the Chiltern Railways Press Office:
email: press@chilternrailways.co.uk
Tel:08457 484950
Visit www.nationalrail.co.uk
Registered Office Address
1 Admiral Way
Doxford International Business Park
Sunderland
SR3 3XP
Fields marked * are mandatory.