What's wrong with leaves on the line?
Throughout Autumn wet leaves fall on the rails and are then crushed to a slippery pulp. This can cause our trains to slide when accelerating and braking, and potentially interfere with the safe working of track circuits. We minimise risk with the following set of precautions:
Network Rail treatment trains:
NR treatment trains clean the rails with High Pressure water jets at 1500bar, or lay traction gel to improve grip. Daily treatment circuits are run throughout the day during the leaf-fall timetable by an MPV (below left) in the West Midlands, and RHTT (below right) South of Banbury.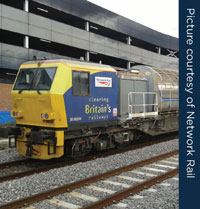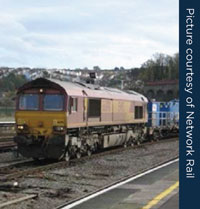 Autumn MOMs and Autumn control:
Network Rail release Mobile Operations Managers (MOMs) from their normal duties to carry out pro-active railhead treatment, and respond to driver reports of poor adhesion, using hand-held scrubbing machines, or spraying the rails with acidic Citrusol to cut through leaf debris.
A 24hr Autumn Controller is provided at West Midlands Signalling Centre to co-ordinate the treatment train paths and Autumn MOMs, and send out regular adhesion forecasts to our staff.
Traction gel applicators and TCAIDS:
Traction Gel Applicators (TGAs) are fitted at poor adhesion sites and squirt a gritty mixture onto the rail when a train passes to help cut through leaf debris and help the wheels to grip.
Track Circuit Aids (TCAIDS) are fitted to key track circuits; these boost the voltage used to ensure they activate properly despite the leaf mulch.
London Underground measures:
A Rail Adhesion Train (RAT) lays sandite to improve grip on the Met line.
Chiltern train schedules on the Met line are changed to accommodate a 40mph speed restriction from Mantles Wood to Rickmansworth; this is intended to reduce the slipping risk and ensure that the track circuits activate correctly.
Our Met trains before 0730 have three or more coaches to provide more grip.
Why does the leaf timetable only apply to trains heading into London?
To ensure the safe operation of the railway, London Underground impose a lower speed limit on the line towards London Amersham and Watford South Junction.
This is partly to do with the predominately downward incline, but is also related to changes that are made to the signalling system due to the risk of slippery rails in that direction.
For more information on how the weather or other factors impact the running of trains please click here.
During leaf fall season, trains running to London on the Aylesbury - London via Amersham line will depart a few minutes earlier than usual.
If you travel on services between Aylesbury towards London via Amersham, please check your journey before you travel. The amended timetable for services via Amersham (Autumn and Winter 2023) is available to view and download here.