Thinking about purchasing a Flexi-Season Ticket? Make sure you've ordered your Smartcard, just go to the 'How do I get my Smartcard?' section below. For more information please visit the Flexi-Season Ticket page.
What's Smart Ticketing?
Smart tickets are a convenient, flexible and secure alternative to paper tickets. They can be managed online.
Why should I go smart?
They won't stop working or tear after being taken in and out of your wallet or get crumpled at the bottom of your bag. So, whatever type of train journey you take, there's a smart way to give your paper ticket the swan song it deserves.
Save time at the station when you purchase your smart ticket beforehand.
Avoid queues at the ticket office, ticket machine or excess fare window.
All your journey tickets are stored securely online for peace of mind – less risk than losing a paper ticket.
Choosing an e-Ticket or smartcard ticket makes for less paper waste.
When registering your Smartcard Season ticket on your Delay Repay account and tap in and out on your journey, making individual Delay Repay claims become a thing of the past.
Opt in to our Delay Repay notification scheme and we will contact you when we can see you have experienced a delay of 15 minutes or more, confirming how to claim your Delay Repay payment.


Which smart ticket is right for me?
Smartcard
The Chiltern Railways Smartcard is used like a ticket wallet, allowing you to store multiple season, single, or day return train tickets. And you can manage everything in your online account.
Smartcards are ideal for season tickets, from one week to one year, as the plastic card with chip is more durable than flimsy paper tickets. Just tap in at the gate at the beginning of your journey and tap out at your destination.
Your Smartcard will also work on London Underground if you have a season ticket with a London Travelcard e.g. Zone 1-6.
If you're a Gold Card holder, you will have a Gold Record Card alongside your Smartcard. Keep this for your records and for proof for other operators or companies of discount eligibility. 
If you are a new Chiltern season ticket customer, you can purchase a season ticket Smartcard via our website. Please watch this video tutorial for a detailed explanation on how to purchase a season ticket on a Smartcard.
If you are an existing Chiltern season ticket holder, head to either London Marylebone or Aylesbury ticket offices to complete a form and you will then be able to collect your new Smartcard season ticket the next working day.
If you buy or have bought your season ticket from a 3rd party ticketing company such as Trainline, you will NOT be able to put your season ticket on your Smartcard.
How do I get a Smartcard?
Set up an online account or log in to your existing account and choose the season ticket you want. Smart-enabled journeys will have the orange Smart 'S' logo.
Under Delivery Options, choose 'Smartcard' and 'Request a new card'.
You'll receive your new card within 5 working days.
To start using your card with the new ticket you purchased at the same time, just tap it on the yellow card reader on the gates.
Smartcard issuance facilities will be available at Chiltern Railways stations soon.
You should continue to carry your photocard ID with your Smartcard when you travel, as you could be asked to prove you are the owner of the Smartcard by a ticket inspector at any time.
Mobile e-Ticket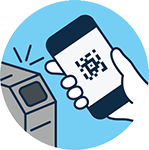 It's simple and secure to purchase your e-Ticket through the Chiltern Railways app, download to your phone and use for your next journey. Get an instant e-Ticket for many Chiltern Railway journeys and store in your app's ticket wallet for a smarter way to travel – you can even use them if your smartphone is offline.
You can now use Apple & Google pay and Apple & Google wallet on the Chiltern Railways app to make your experience even quicker and more convenient.
e-Tickets are ideal for occasional journeys like Advance, single, return, anytime, peak and off-peak fares.
TIP: Make sure you've got plenty of phone battery on the day as you might need to show your ticket at any point on the journey.
How do I get a mobile e-Ticket?
 
Download the free Chiltern Railways App.
Choose the journey you'd like and pick your delivery as a mobile e-Ticket.
You can then save your ticket to your phone's ticket wallet to scan at the gates.
Download the Chiltern Railways app now:
Is my journey smart-enabled?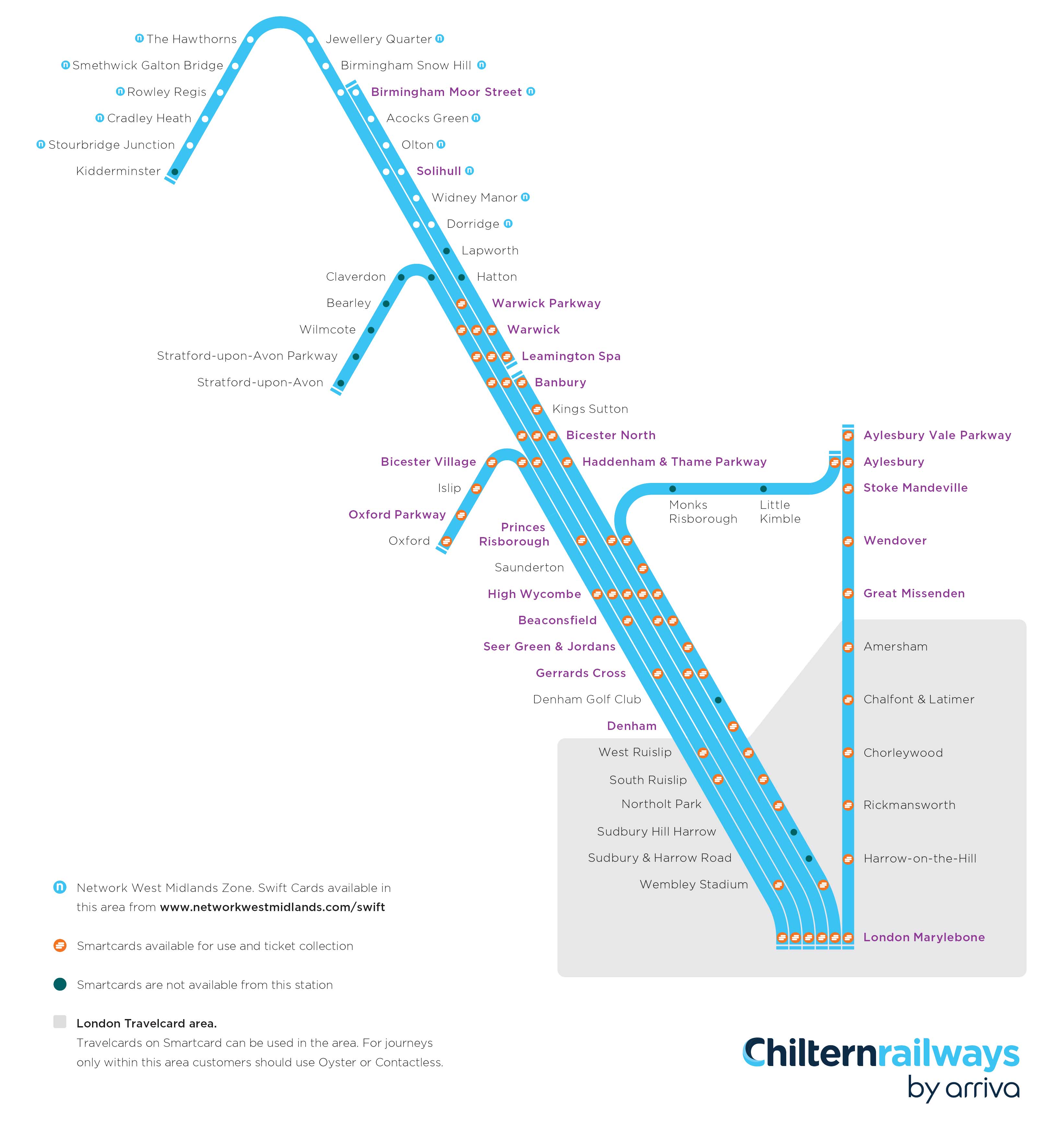 Click below to see the Smart interactive map to check if your train journey is supported with Smart ticketing

Got some questions?
Not to worry, head over to our frequently asked questions page.