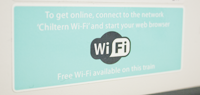 All Chiltern's Mainline trains have complimentary Wi-Fi (subject to availability). Here's how to connect to it :
Go to your Wi-Fi icon within your phone or laptop and look for '_Chiltern-wifi'
Start your web broswer
Fill in a simple registration form (you'll only need to register once)
That's it, you're connected
At our stations : If you do have any problems at a station WifiSpark have a helpdesk that passengers and staff can report connectivity problems to open 24 hours a day every day. Either call 0344 848 9555 or email chiltern.support@icomera.com

Onboard our trains : If you are on a train you should contact Icomera by calling 020 8028 0375 or emailing online.support@icomera.com.
Chiltern's WiFi is based on mobile signals. Watch the video below to see how this can be affected when travelling.