The safety of passengers is of paramount importance to everyone at Chiltern Railways.
Our on-board and station staff take part in regular training programmes so that they can confidently and safely deal with a range of situations and circumstances.
See it. Say it. Sorted.
Do not leave any personal belongings unattended at stations, on board trains and in car parks.
If you see someone behaving suspiciously or find anything unattended, inform a member of staff, the British Transport Police or contact us at one of the help points in our stations.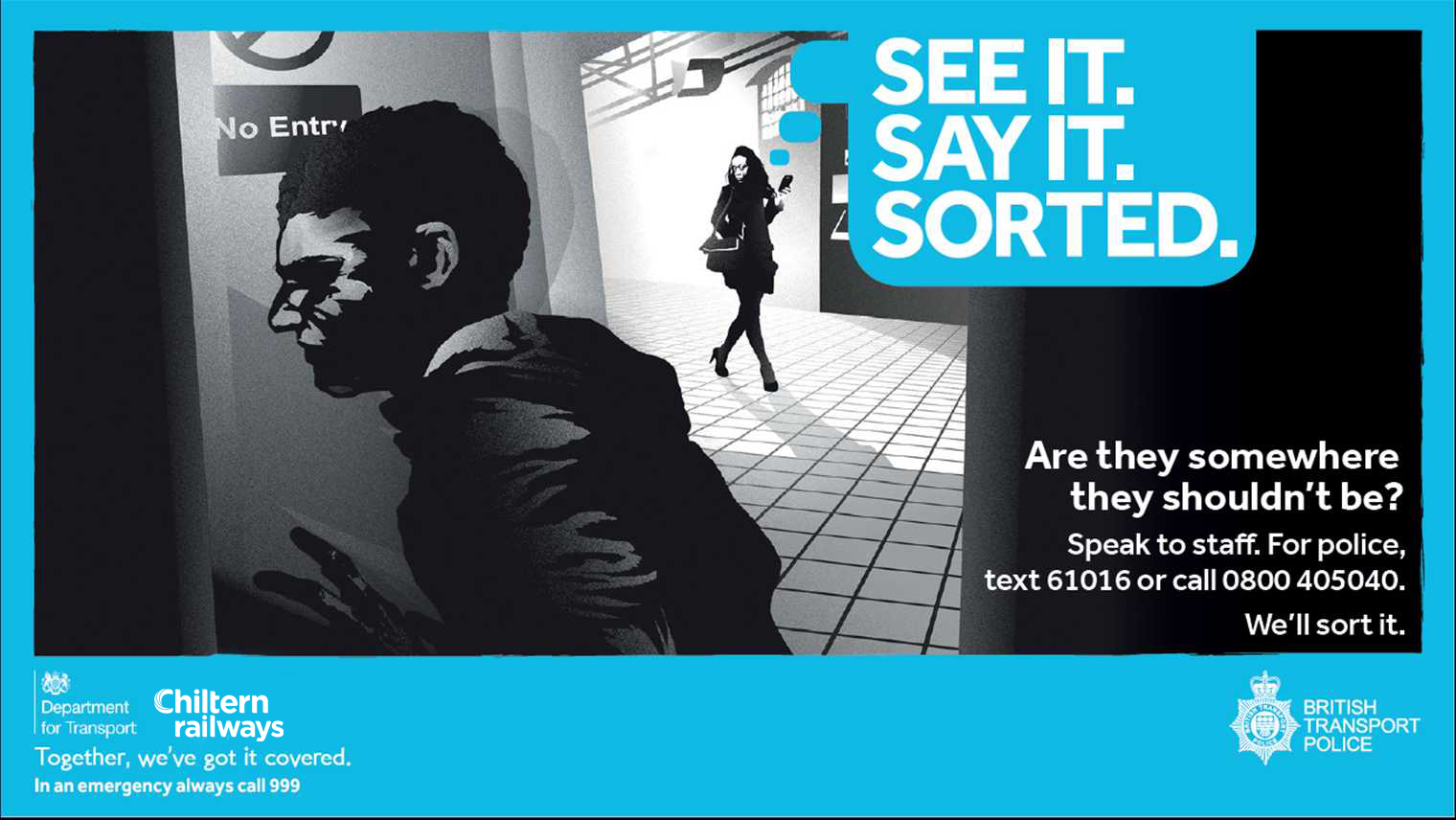 British Transport Police
Text 61016* or call 0800 40 50 40 when:
You want to report an incident discreetly that has already happened
Issues are affecting you at the station or on-board the train
You have a general police enquiry
The text number is monitored 24/7 and, while it is not for reporting emergencies, British Transport Police will send officers if required.
*Your mobile service provider may issue a small charge to text 61016. The exact cost will depend on your network and tariff.
When should I dial 999?
Always dial 999 when you need an urgent police response such as:
A crime is happening
Someone suspected of a crime is nearby
Someone is injured, being threatened or in danger
If your enquiry concerns buses or roads, you can contact local police anywhere in the country by dialling 101.
CCTV and body cameras
Most of our trains, stations and car parks have CCTV systems, which means a safer environment for our customers and staff.
Some of our staff also wear small body cameras to help secure you and improve their personal safety, as well as use for evidence with prosecutions.
At our stations
Allow plenty of time to board your train so you don't need to run.
Let us, or the police, know if you see anything suspicious.
Mind the gap when getting on and off  the train.
Be extra vigilant during adverse weather conditions.
Keep doorways, staircases and barriers clear.
Stand behind the yellow line, where there is one, and keep yourself and your belongings well clear of the platform edge at all times.
Do not leave luggage unattended. Unattended items may be removed and destroyed. If you see any luggage left unattended, please inform a member of staff immediately. If the station is unstaffed, please use the passenger help points available on the platform.
If you are planning to photograph or film on any of our stations, please visit the Photography at stations page.
On our trains
Our trains are designed to put your safety first:
Please read the safety information provided in each carriage when you board the train.
Keep your things close to hand and make sure you take everything with you when you leave the train.
Please keep walkways clear of obstructions.
If you witness Railway Crime - please report it. Call the British Transport Police 24 hours a day on 0800 40 50 40.
Alternatively you can text the British Transport Police on 61016 anonymously to report a non-emergency crime.
If a fire breaks out, walk calmly to the next carriage and alert the driver, by using the passenger emergency alarm. Don't attempt to collect your luggage from the racks.
All of our trains are equipped with fire extinguishers.
In most emergency situations, it is safest to remain on board the train and listen for announcements from train crew or emergency services.
Do not leave the train unless instructed otherwise.
If you are in immediate danger and evacuation of the train is necessary:
If possible evacuate directly onto a walkway or embankment.
Do not step on any rail.
Look and listen for approaching trains - other trains may still be running.
Check for debris, wires and steep drops. Get off the track as quickly as possible.