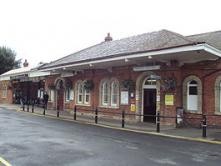 Ticket office opening hours:
Mon - Thu : 07:00 - 18:00
Fri : 07:00 - 19:00
Sat : 07:00 - 18:00
Sun : 09:00 - 16:00
Onward travel information is available here
See station facilities
Live train times
View all live arrivals and departures from Stratford-upon-Avon station.
Status
Departs
Destination
Platform
Operator
Details
Status
Arrives
Origin
Platform
Operator
Details
Directions
Stratford-upon-Avon
Stratford-upon-Avon Station
Station Road
Stratford-upon-Avon
CV37 6PL
Book tickets to Stratford-upon-Avon
Don't forget, you can book tickets to any UK destination through us, and we never charge a booking fee. Start planning your next adventure now.