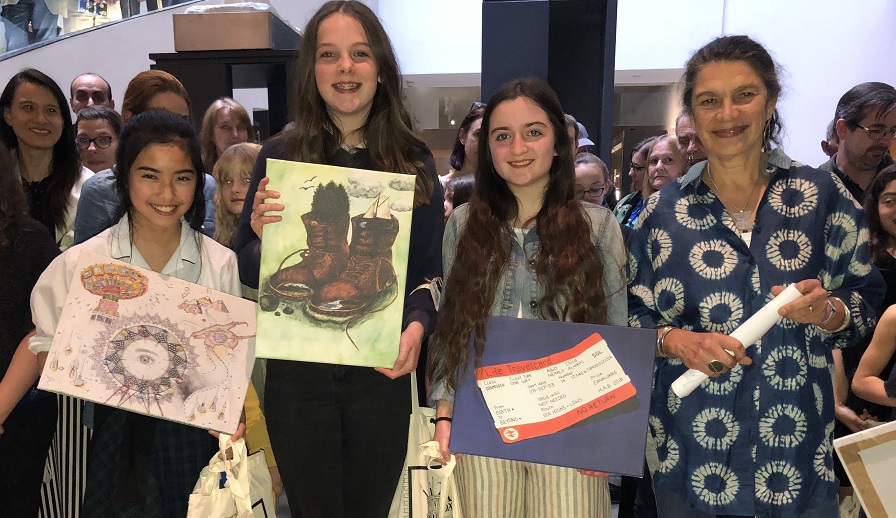 From left to right: Leony (1st prize), Katherine (2nd prize) and Holly (3rd prize) and Susan Moxley, an artist and one of this year's judges.
Chiltern Railways recently supported Young Art Oxford's annual art competition to showcase the artistic gifts of Oxfordshire's most talented young artists on their latest timetables.
The timetables, which came into effect on 20 May, feature the artwork of Young Art Oxford competition winners and will be seen by thousands of customers travelling on the entire Chiltern route between London Marylebone, Birmingham, Oxford and Aylesbury.
The competition was sponsored by Chiltern Railways, with children from reception to year nine from over 50 Oxfordshire schools taking part and submitting artworks with the theme of 'journeys' for the competition. Eight winners were announced to feature on the Chiltern timetables at a three-day Young Art Oxford exhibition at the prestigious Ashmolean Museum.
As well as encouraging the talents of these young artists, the competition also offered the opportunity for them to help other children their age who suffer from serious illness by raising money for Cancer Research UK.
Sarah Stoddart, Chair of Young Art Oxford, said:
"We would like to thank Chiltern Railways for their involvement with our competition and for their sponsorship. Not only does Young Art Oxford raise money for Cancer Research, which they use specifically for research into childhood cancers, but it also gives school children across Oxfordshire a huge boost in confidence when they see their artwork in the Ashmolean Museum. The eight children who have their pictures printed on the timetables are so proud of this extra accolade."
Alan Riley, Customer Services Director for Chiltern Railways, said:
"We are so pleased to have been a part of this journey, partnering with Young Art Oxford and encouraging the creativity of the talented youngsters who live and study along our line. Our latest timetables look fantastic and it has been an honour to help raise money for such a worthwhile cause."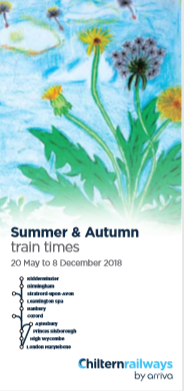 -Ends-

For further media information please contact the Chiltern Railways press office on 020 3856 2226 or [email protected].