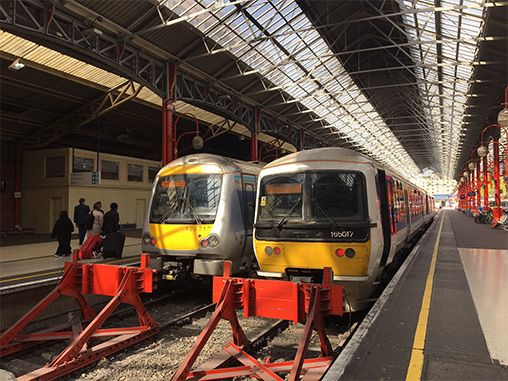 Chiltern Railway services from Monday 25th January will be moving to a further reduced timetable to ensure that vital train services for customers needing to travel can keep running. Overall, the new timetable represents 51% of Chiltern Railways pre-covid service and customers should check their train times on the Chiltern website before travelling.
The move reflects a decrease in passenger demand as the government encourages the public to stay at home and stop all unnecessary travel while ensuring the train operator can reliably deliver a service for those needing to travel. This timetable will remain in place until further notice, though services will be kept under regular review.
During off-peak hours there will be one train per hour in both directions to Oxford, Birmingham, Aylesbury via the Metropolitan Line and Aylesbury via High Wycombe. Additionally, Chiltern will operate the Leamington Spa – Birmingham Moor Street and Leamington Spa - Stratford-upon-Avon shuttles to support key worker journeys in the West Midlands. Extra peak services will run on the Metropolitan Line route and there will be additional trains from Ruislip and High Wycombe.
Eleni Jordan, Commercial and Customer Strategy Director of Chiltern Railways said, "We have undertaken a detailed review of the numbers of customers using our services and have ensured that the changes from Monday will still provide enough space on our trains for customers to maintain social distancing. This reduced timetable will be constantly reviewed and ensure that Chiltern Railways can continue to operate a reliable service for key workers.
We strongly encourage our customers to continue following Government advice to stay at home unless necessary, wear a face covering at all times unless exempt and maintain social distancing."