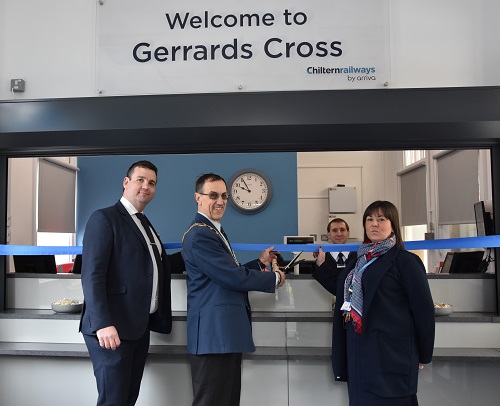 Gerrards Cross station was officially re-opened on Friday 5th April following several months of improvement work. The station has been modernised with a new open plan ticket office and is just one of a number of stations across the Chiltern network undergoing refurbishment work.
The new open plan ticket office design will help improve customer service at the station and allow Chiltern staff to offer better information and ticket retailing to customers. Additionally the station also now benefits from a completely redecorated booking hall including walls, floor and ceiling improvements, a new heating system and new LED lighting. There will also be new seating added to the booking hall.
The LED lighting is part of a wider project aimed at reducing Chiltern Railways' carbon footprint. It is estimated that the overall reduction in kgCO2e every year with the new LED lights equates to approximately 14,224 journeys between Birmingham Moor Street and London Marylebone.
Chiltern Railways Customer Services Director Alan Riley said, "We're committed to improving our stations for our customers to continue to make them a pleasant place to be. This project at Gerrards Cross is part our continued investment in our stations and we're proud to unveil these improvements. We hope our customers will be pleased with the refurbishment."
Gerrards Cross Mayor, Councillor Chris Brown said, "On behalf of the residents of Gerrards Cross, the Town Council would like to express our thanks to Chiltern Railways for these welcome improvements to Gerrards Cross station. It was a privilege to attend the official opening ceremony for the new ticket office facility on Friday and I would like to thank Chiltern Railways for their hospitality."