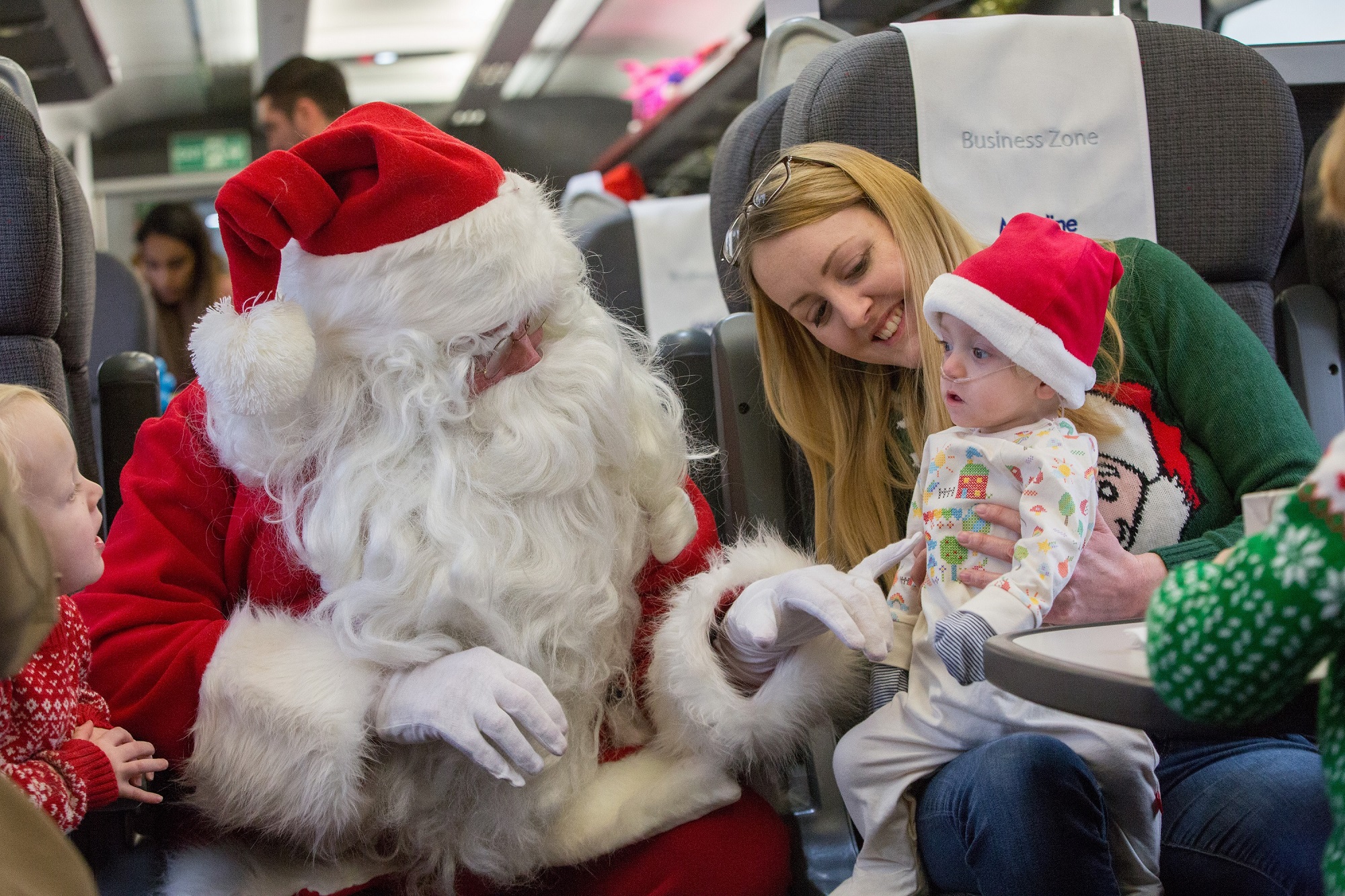 If you happened to be at Birmingham Moor Street station on Saturday 16 December, you would have seen a very unusual sight – Santa Claus and his elves welcoming excited children from Birmingham Children's Hospital as they embarked on a magical journey to London on board the Chiltern Santa Train.
The festive train, which was unveiled by Chiltern Railways as the UK's fastest sleigh earlier this month, was used as a special charter service on Saturday for families from Birmingham Children's Hospital, as well as Home-Start Banbury & Chipping Norton and Bowel Cancer UK. Modifications were also made to the train to accommodate additional wheelchairs, so as many children as possible could make the trip.
The train was packed with decorations, games and music, with children's entertainers and Chiltern Railways staff as elves on hand to make the trip enjoyable and engaging for those onboard. The journey was filled with laughter and squeals of delight as it made its way to the capital where the families got to spend a few hours exploring the city before Santa's "sleigh" left the station to return north once more.
Chiltern Railways' Customer Services Director, Alan Riley, donned the red suit and welcomed the guests, then visited every child at their seat, posing for photos and presenting everyone with a gift. He said:
"Sharing the day with such a special group of families made it one of the most rewarding of my career. Spending time with each child and seeing them filled with happiness and pure joy was an experience I'll never forget."
Dave Penney, Managing Director of Chiltern Railways said:
"It is incredibly important for us to support the local communities we serve, and it was an honour to meet so many wonderful families on board the Santa Train at such a special time of year. An enormous amount of work went into making sure the trip was memorable, and I am extremely proud of the team who made it such a success."
Miranda Williams, Public Fundraising Manager at Birmingham Women's and Children's Hospital Charity, said:
"Thank you so much to Chiltern Railways for supporting our Critical Journeys Appeal and offering so many of our patients and families from Birmingham Children's Hospital this magical Christmas experience on the Santa Train to London. Supporting the Appeal will help fully kit out four Critical Care Ambulances with the same, and latest, life-saving medical equipment. This will enable the KIDS/NTS service to respond faster and more effectively, helping vulnerable patients and their families get to the right place, at the right time, for the right treatment."
Jane Skelton, Senior Organiser at Home-Start Banbury & Chipping Norton, said:
"It was a fantastic day. The staff were very friendly, the train was superbly decorated, and the children thought it was magical. All our families thoroughly enjoyed themselves and felt really lucky to have been invited along."
Luke Squires, Director of Fundraising at Bowel Cancer UK, said:
"Thank you so much to Chiltern Railways for giving us the opportunity to be part of this incredible magical Santa Train. Events like this are why a partnership with Chiltern Railways is so important to the charity. It helps us raise awareness of the disease and all donations will support our vital research and lifesaving work to help stop bowel cancer."
- ENDS -
For further media information and more high-resolution images of the event, please contact the Chiltern Railways press office on 020 3856 2226 or press@chilternrailways.co.uk.
Visit our website - http://www.chilternrailways.co.uk/news/press-releases to view the most recent press releases.
Chiltern Railways is part of the Arriva group, one of the leading providers of passenger transport in Europe. Arriva employs more than 60,000 people and delivers over 2 billion passenger journeys across 14 European countries each year.
Editor's notes:
- For more information about Birmingham Children's Hospital Charity, visit http://www.bch.org.uk/
- For more information about Home-Start Banbury & Chipping Norton, visit http://www.home-startbanbury.org.uk/
- For more information about Bowel Cancer UK, visit https://www.bowelcanceruk.org.uk/