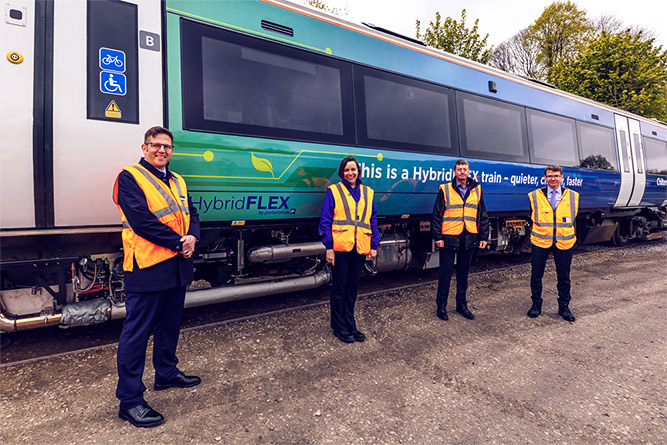 Britain's first hybrid-powered train was put through its paces during a test run with senior members of Chiltern Railways in Derbyshire earlier this week. The Class 168 Chiltern train has been fitted with a Rolls Royce MTU hybrid drive which will cut noise emissions in stations and deliver zero emissions when operating under battery power.
Chiltern Railways' Managing Director Richard Allan and Engineering and Safety Director Ian Hyde visited the Ecclesborne Vally Railway along with senior managers from Porterbrook, for a test run from Duffield to Wirksworth. The HybridFLEX battery-diesel train is currently undertaking a programme of tests between the two locations prior to being returned to Chiltern in the summer.
Data suggests potential reductions of 20% in fuel consumption and circa 70% in NOx emissions on Chiltern services between London and Birmingham. In addition to improved air quality and reduced noise, HybridFLEX units also expected to deliver journey time and route capacity improvements, as the combination of diesel and electric power will offer enhanced acceleration capabilities.
Richard Allan, MD of Chiltern Railways, said: "Chiltern has a fantastic track record of innovating and investing in new routes, stations, and trains over a 20-year franchise that is now in its final few months. Looking ahead we have some major challenges and opportunities, not least in supporting the decarbonisation of the railway from our current position as an all-diesel operator with an average fleet age of 25 years. We need investment to modernise and this exciting use of new technology in an older train is a potentially very significant opportunity."
Stephen McGurk, Porterbrook's Chief Portfolio Officer, said: "We are very excited about this technology which has the potential to transform air quality and sound levels at major stations and in urban areas. I would like to thank our Chiltern Railways customer for working with us on the introduction of HybridFLEX to Britain's railway."
The Rolls Royce MTU hybrid drives are also expected to produce maintenance savings through reduced 'wear and tear' on consumables, such as brake pads and discs.