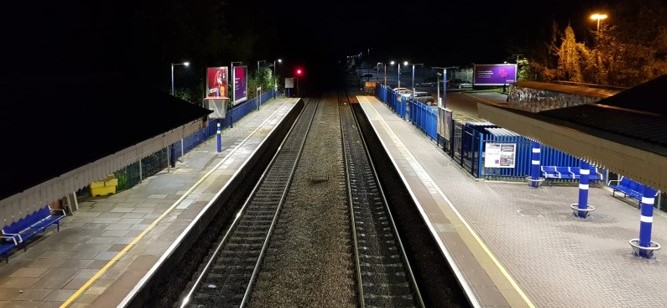 Chiltern Railways are celebrating the roll out of LED lights across their stations. The rail operator's bright idea should reduce their overall electricity consumption by 1,278,094 KWH's per annum.
The new energy efficient LEDs reduce Chiltern Railways' CO2e output by over 600,000kg – the equivalent of travelling between Birmingham Moor Street and London 14,224 times. As well as reducing Carbon Dioxide emissions, the project has brought to light other benefits including making stations safer for customers with better lighting levels. 
Teams have been working overnight to minimise disruption to customers, so far replacing over 4395 lamps, street lights and tubes. The project was delivered in partnership with a number of key stakeholders including Network Rail, Department of Transport and Airis Energy Solutions.
Alan Riley Customer Services Director at Chiltern Railways said, "At Chiltern Railways we're always looking at ways that we can reduce our impact on the environment. The lightbulb moment came when we understood the difference this project could make to our carbon footprint. We've had a number of exciting environmentally friendly projects over the last 12 months including introducing dedicated coffee cup recycling stations and a clean air zone to Marylebone Station."   
"It might only take one Chiltern Railways employee to change a lightbulb, but it needs a dedicated team to change 4000 of them. Our people have been working tirelessly over the past few months to make this a reality. We hope that our customers will be pleased to see our commitment to improving stations across the Chiltern line, improving safety and security while helping the environment."