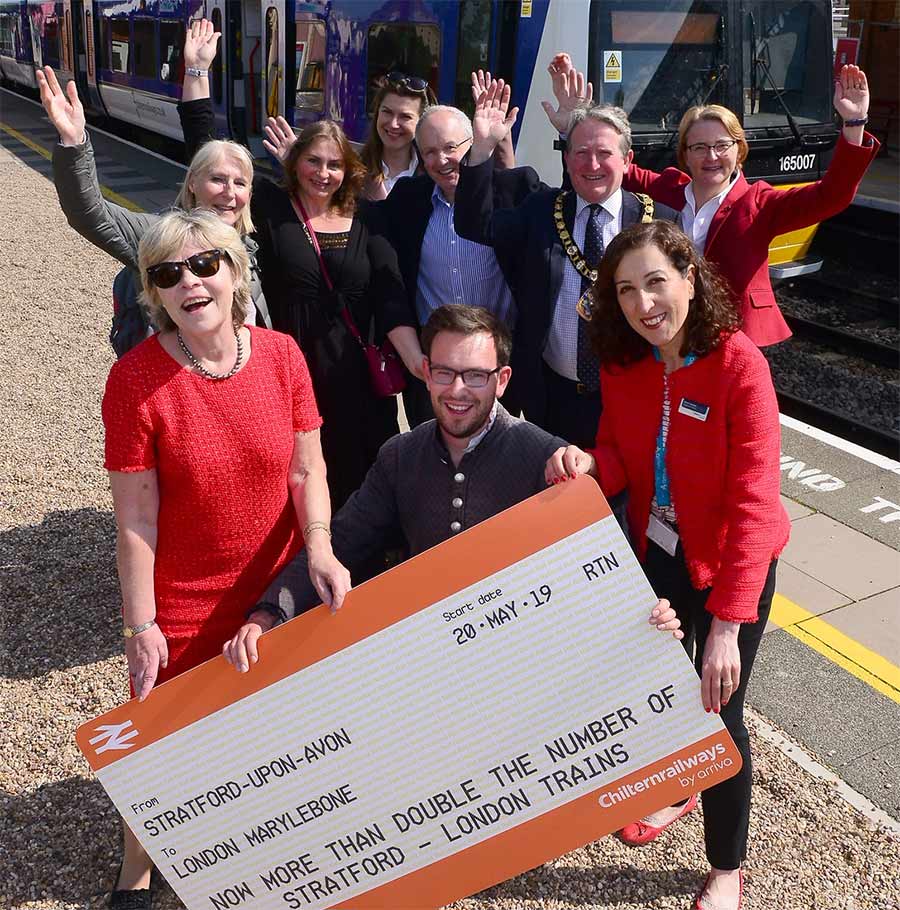 The number of direct trains between Stratford-upon-Avon and London Marylebone has more than doubled today following the launch of the new Chiltern Railways timetable. The occasion was celebrated at Stratford-upon-Avon station by representatives of Chiltern Railways with local organisations and councils marking the departure of the first new direct service.
The number of direct trains in the week between London and Stratford have now increased in both directions from three to six. There are also additional services on the weekend. On Saturdays there are now four direct trains from London to Stratford, with five trains running in the other direction from Stratford to London. On Sundays there are five direct trains in each direction.
Guests at the launch event were treated to a performance by James Anderson, a Shakespeare Aloud actor who presented excerpts from As You Like It and Sonnet 18.
Eleni Jordan, Commercial Director of Chiltern Railways said, "At Chiltern Railways we're delighted to make these improvements to our Stratford-upon-Avon service as the only train operator between the town and London. With these additional services, the number of direct services to the capital from Stratford each week has now more than doubled.
"We were delighted that so many organisations were able to join us today at the official launch event, emphasising how we work closely with the local community in Stratford. We hope that the more frequent direct journeys will inspire lots of people to take journeys both to and from Stratford."
Philippa Rawlinson, director of operations and marketing at the Shakespeare Birthplace Trust, said, "Stratford-upon-Avon has a long history of welcoming visitors as the birthplace of William Shakespeare, with tourism being one of the key drivers for our local economy. We welcome the increase of direct rail services between London Marylebone and the town, offering convenient transport links to and from the capital which supports economic growth, attract new investment and jobs, and stimulate innovation as we strive to remain a must-visit destination all year round."