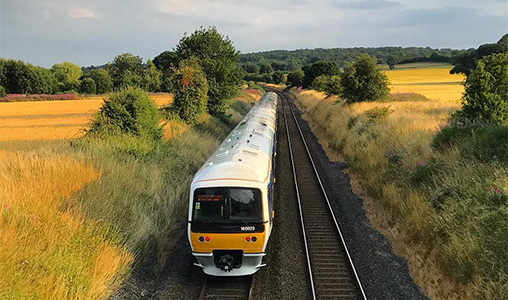 Passengers have once again ranked Chiltern Railways as the best operator for journeys between London and the West Midlands and Oxford in the National Rail Passenger Survey (NRPS).
The survey revealed that 89% of customers on the companies West Midlands route and 88% on the Oxford route said that overall the Chiltern Railways service was good or satisfactory. Whilst across the whole route, 88% of passengers felt the same, higher than the national average of 84%.
Customers ranked Chiltern Railways the best for punctuality and reliability for journeys to Oxford and the West Midlands, and overall 87% of customers were satisfied with the train company's punctuality, higher than the national average of 74%. Passengers also rated Chiltern highly for overall satisfaction with the train, bike parking facilities and they were one of the top train companies for cleanliness in stations.
Chiltern Railways announced earlier this week that they will be strengthening their timetable from Monday 6th July in order to prepare for an eventual increase in passengers travelling by train. The new timetable will increase capacity on the Marylebone – Amersham – Aylesbury line as well as boost services to Oxford and Birmingham. However, customers are still advised that they should only travel if their journey is necessary.
With the increase in services from Monday, extra steps have been taken to keep people safe onboard trains and at stations including the introduction of stricter onboard cleaning regimes using enhanced products.
Chiltern Railways Interim Managing Director, Mary Hewitt, said:
"We are pleased that Chiltern Railways has again been named the top operator for journeys between London and Oxford and the West Midlands.
I'm always extremely proud of the entire Chiltern Railways team for their hard work and dedication, but I have been even more proud of our staff throughout the Coronavirus pandemic. Everyone has worked tirelessly to ensure that key workers who need to use our services to get where they need to be, have been able to do so safely."
New 'Deep Cleanse' teams are now in place at London Marylebone and Birmingham Moor Street stations to clean high touch areas before trains depart – these include any object or areas that may have been touched by individuals during a journey.
We're always looking at ways we can enhance the service we provide to our customers, both onboard and at our stations, and will work throughout the year to ensure that customers have an excellent experience as they return to the railway."