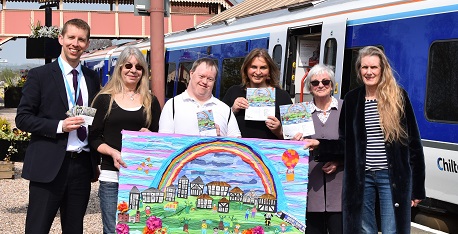 Chiltern Railways have teamed up with Stratford-upon-Avon based charity Escape Arts to help create the artwork for their latest timetables. The full timetable's front cover includes the artists' favourite things about Stratford and celebrates the extra services that Chiltern have added between London Marylebone and Stratford-upon-Avon, more than doubling the number of direct trains between the two stations.
The timetables, which come into effect on 20 May, feature the artwork of young people and adults from Escape Arts and will be seen by thousands of customers who travel across the Chiltern network between London Marylebone, Birmingham, Aylesbury, Oxford and Stratford-upon-Avon.
For over 20 years Escape has developed a diverse programme of creative activities in both Stratford and Nuneaton, as well as across Warwickshire. Part of Escape's success is using this creativity to engage and celebrate stories of people, place and time in an exciting, empowering way. The home of Escape is the Grade ll listed 'Old Slaughterhouse Heritage & Arts Centre' in Stratford-upon-Avon, a historical building which is also now a vibrant community venue, offering a range of arts and heritage exhibitions, workshops and events. In 2018 the charity were awarded the Queens Award for Volunteer Services, with volunteers being the lifeblood of the organisation.
Karen Williams, Artistic Director of Escape Arts said, "Escape Arts were delighted to be asked to work with Chiltern Railways. Our different community groups worked on the individual pieces and we are so proud to see their work published. We are looking forward to seeing the name Escape Arts across the county on the train routes and at stations. We work with people of all ages and from across a number of communities, so it was a delight to bring them all together to work on this project."
Alan Riley, Customer Services Director at Chiltern Railways said, "We're delighted that Escape Arts agreed to commission artwork for our new timetables - the work they have produced looks fantastic and we're thrilled to support the creativity of talented young people and adults in the communities across our network."
"With our new timetable more than doubling the number of direct trains between Stratford-upon-Avon and London Marylebone, we're pleased that we can work closely with the local community in Stratford and look forward to continuing to do so in the future."