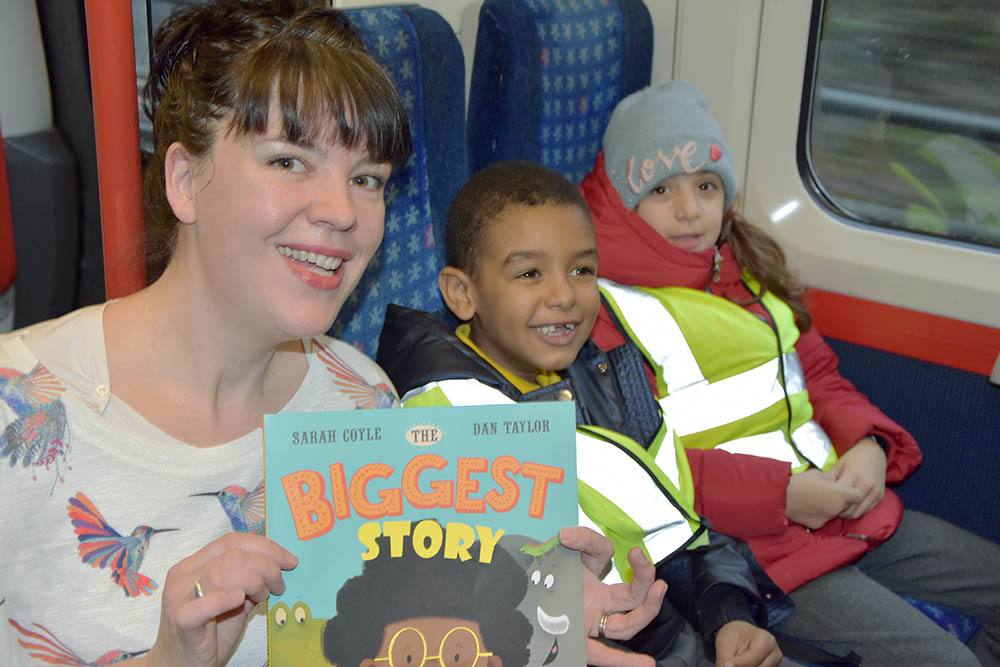 Pupils from Edward Wilson Primary School in London took part in Chiltern Railways' first Story Train event on Friday 06th December. The excited Year 2 children enjoyed a storytelling adventure ride across the Chilterns with Sarah Coyle, author of 'The Biggest Story'. Pupils and teachers were drawn into the story of Errol and joined in by playing out animals, using props and chanting to save the T-Rex!
The event was organised as part of Chiltern Railways charity partnership with the National Literacy Trust, an independent charity working with schools and communities to give disadvantaged children the literacy skills to succeed in life. Chiltern Railways worked with the National Literacy Trust, Egmont Publishing and the Roald Dahl Museum to provide the children with a memorable day which included a trip to the Roald Dahl museum and a goody bag with three books to take home.
Eleni Jordan, Commercial Director at Chiltern Railways said:
"We were delighted to be able to provide year 2 pupils at Edward Wilson Primary School with a truly unique experience onboard Chiltern Railways' first ever Story Train. We know through our work with our charity partner, the National Literacy Trust, that creating a sense of excitement about reading and storytelling greatly improves children's chances of success at school and beyond.
We hope that the pupils had fun on their storytelling adventure and enjoy reading their new books. "
Amanda McRitchie, Teacher at Edward Wilson Primary School said:
"The children thoroughly enjoyed the day. From listening to a story on the train to exploring the museum they learnt so much and were truly engaged throughout. It was a wonderful experience and they were thrilled to receive a selection of books at the end."
Lizzie Jones, Young Readers Programme Manager, said:
"We know that children who enjoy reading do better at school and are happier with their lives. We were thrilled to work with Chiltern Railways to bring the joy of books and storytelling to life for so many children today. They all had a truly memorable experience, meeting an author, listening to stories on their train journey and visiting the incredible Roald Dahl Museum for the very first time. This kind of initiative is also great at helping children to make connections with inspiring places outside of their most immediate communities. "
Sarah Coyle, Author if 'The Biggest Story' published by Egmont Publishing said:
'It was so wonderful being part of Chiltern Railways and NLT's Story Train experience. As we zoomed out of London and into the hills, enjoying that magical mix of reading and railway, it felt like an adventure that would be remembered for a long time, by the children as well as myself!'
Cally Poplak, Managing Director of Egmont Publishing said:
"The story train encapsulates Egmont's mission to make children proud readers. As such, we believe it is every child's right to be read to daily, which sits at the core of our #statutorystorytime petition. This is why we are delighted to support the National Literacy Trust and Chiltern Railways story train, working with author Sarah Coyle to support this mission."
Edward Wilson Primary School is one of many schools that the National Literacy Trust support across the country on their mission to improve literacy skills. The school is based in the second most deprived borough of London in Westminster and has a very high percentage of pupils attending who are eligible for Free School Meals (38.6%), which is significantly higher than the national average. 87.4% of children attending this school come from families where English is not their first language. This means that children often don't get the help they need at home with their reading and many can't afford to buy their own books.