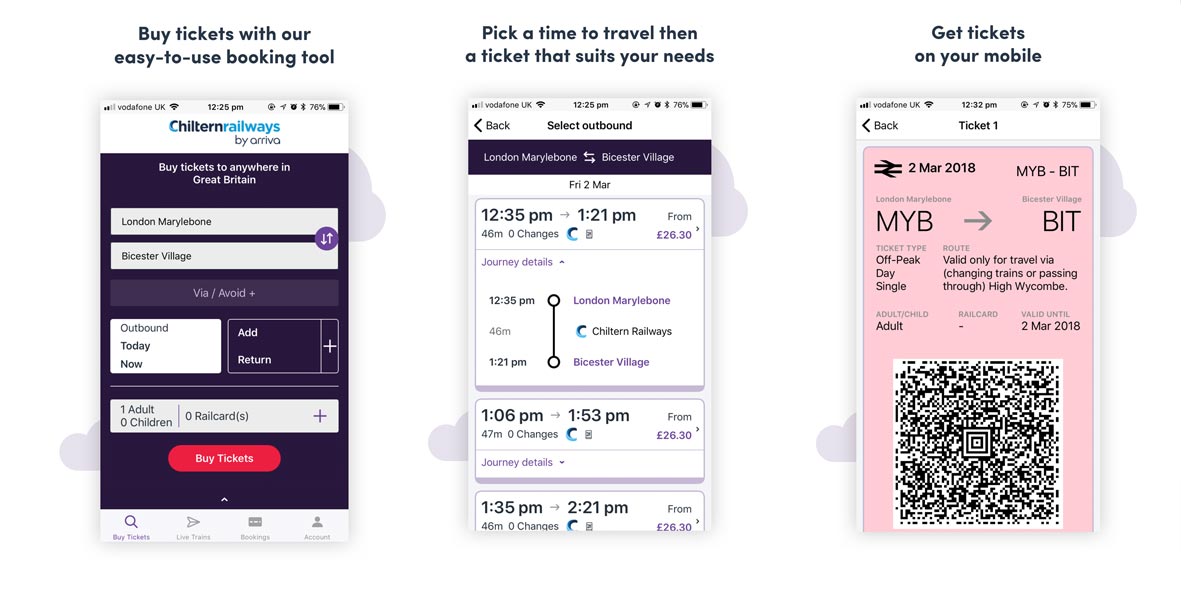 We've launched our new app
We're upgrading our app to make journey planning, accessing the latest travel information and buying your tickets even easier.
Clearer, simpler and quicker-to-use, the new Chiltern app is packed with helpful features – and will be available for you to download and explore from Tuesday 13 March 2018.

When you buy tickets through our app, we'll never charge you a credit card, debit card or booking fee.
We've got many more Chiltern journeys available with e-tickets to download straight to your phone.
We will always show you the cheapest fare for your journey.
So, breeze through our stations with your e-ticket on your app, and hello cheapest Chiltern fares around!
New features to look forward to:
Cheapest fare indicator - We'll always display the best value fare first, to help your money go that little bit further.

Save your preferences - To make booking your next journey quicker and easier, you can set up an account – saving your favourite journeys and seat preferences. Full access to 'my account'. No need to visit our desktop or mobile sites to make changes.

Groupsave discount - This will be automatically applied, so you'll always get the best value.

Access -You'll be able to log in to our new app in exactly the same way as before, using an email address and password.
What if I have the current app ?
We won't be transferring the bookings on the existing app to the new Chiltern app.
Don't worry - you can still use our current app to find travel information until 3 April 2018.

But, if you'd like to buy tickets, you'll need to download and use the new app.
What if I've booked a ticket on the current app?
If you've booked tickets using our current app that you plan to collect from a ticket machine, please do so as soon as possible to make sure you can travel.
After 31 March, you'll still be able to collect your tickets from one of our machines, but you'll need to make sure you have your booking reference. You will have been sent a booking confirmation email with the booking reference.
If you've lost your booking reference, you'll need to contact us on 03456 005 165 (Mon-Fri 08.30 to 22.00) or via our website at chilternrailways.co.uk/contact-us to get your tickets.
What's going to happen to my mobile ticket on the old app?
If you've booked a mobile ticket for a journey before 31 March, you should download the ticket into My tickets within the old app on your smartphone.
If you've booked a journey for after 31 March please download your ticket as soon as possible.
If you're having issues with downloading your mobile ticket, you'll need to contact us on 03456 005 165 (Mon-Fri 08.30 to 22.00) or via our website at chilternrailways.co.uk/contact-us to get your tickets.
Please remember
If you're not in possession of a valid ticket, you'll be unable to travel with us.
Compatibility / How do I download ?
Our new app will be compatible with all iOS and Android devices and will be available to download from 13 March at the App Store and Google Play.