Download our timetable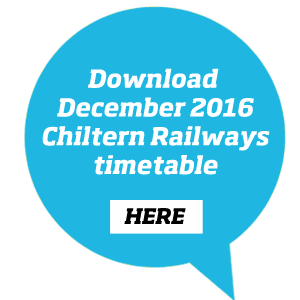 Use the button above to download the full timetable or download a pocket timetable at the bottom of the page
New timetable started on Sunday December 11 2016.
A new timetable started on Sunday December 11th 2016 until Saturday May 20th 2017. Download a copy using the button above or the link at the bottom of the page
Weekend Changes to Train Times - check before you travel
Services can be subject to alterations, especially late at night and at weekends, because of Track Improvement Work or major events taking place at Wembley National Stadium. Always check our Changes to Train Times page before you travel.
Large Print Timetables
A large print version (A4 paper sized) of our timetable booklet is available from our Customer Services department on 03456 005 165 (Mondays to Fridays, 0830 to 1730). A downloadable PDF version is also at the bottom of this page.
European Railway Timetables
You can view European railway timetables,provided by DeutscheBahn, in English: Birmingham to Berlin, Banbury to Budapest, Beaconsfield to Bordeaux and much more.
Related Documents