Download our timetable
Timetable 15 May 2016 to 10 December 2016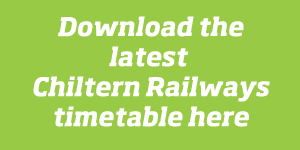 Use the button above to download the full timetable or download a pocket timetable at the bottom of the page
Banbury Upgrade 
There are engineering works throughout July and August 2016. Check our Banbury Upgrade page for details before you travel.
Bicester Stations
Bicester Town station has now reopened as Bicester Village, so there are now two stations in Bicester for you to choose from. To visit Bicester Village outlet from London Marylebone you would buy a ticket for Bicester Village.
To visit Bicester Village from Birmingham Moor Street you would travel to Bicester North and take the shuttle bus. You can purchase a combined ticket from Birmingham Moor St to Bicester Village (via shuttle bus) which includes both tickets.
To buy a ticket to Bicester Village stations click here
FAQs for the new Bicester Stations click here
Weekend Changes to Train Times - check before you travel
Services can be subject to alterations, especially late at night and at weekends, because of Track Improvement Work or major events taking place at Wembley National Stadium. Always check our Changes to Train Times page before you travel.
Large Print Timetables
A large print version (A4 paper sized) of our timetable booklet is available from our Customer Services department on 03456 005 165 (Mondays to Fridays, 0830 to 1730). A downloadable PDF version is also at the bottom of this page.
European Railway Timetables
You can view European railway timetables,provided by DeutscheBahn, in English: Birmingham to Berlin, Banbury to Budapest, Beaconsfield to Bordeaux and much more.
Related Documents