In a time of social distancing, our message for customers is to only travel with us if you have no alternative. If you don't have an alternative, or if you're a key worker, then you may be anxious about changing onto public transport, particularly if your commute is taking you into London.
This article is all about a great alternative to public transport – the bicycle! Riding a bike isn't an option for some people but if you're able to cycle you'll find that it's a great way to escape the crowds on public transport and get where you need to be. It's good for your health, it's cheap and, most importantly, it's fun!
Please be aware that non-folding bicycles are not allowed on our peak-time trains. Folding bicycles are welcome, but please ensure to keep them out of the way of other customers. There is bicycle parking available at Marylebone on platform 3 and on platforms 1 and 2; ordinarily this is restricted to season-ticket holders, but to encourage customers to make cycle-rail trips while social distancing measures are in place, we have waived this rule until further notice. There are no restrictions at our other stations and you can see a list of how many spaces each station has and where they are located on our website.
Finding your route
Probably the biggest barrier to cycling (other than getting a bicycle in the first place) is finding a route to get you where you want to go, particularly if you're commuting to a big city like London where you may not be familiar with the streets or confident with navigating. However, Marylebone is well located for quick access to the strategic cycleways network, which links up some of the key employment areas with signposted bicycle lanes that are fully separated from motor traffic. TfL has a good map showing the main signposted cycling routes, many of which are fully segregated from traffic, while CycleStreets shows every route in the UK, and lets you plan journeys (including an option to show the quietest and lowest-traffic routes).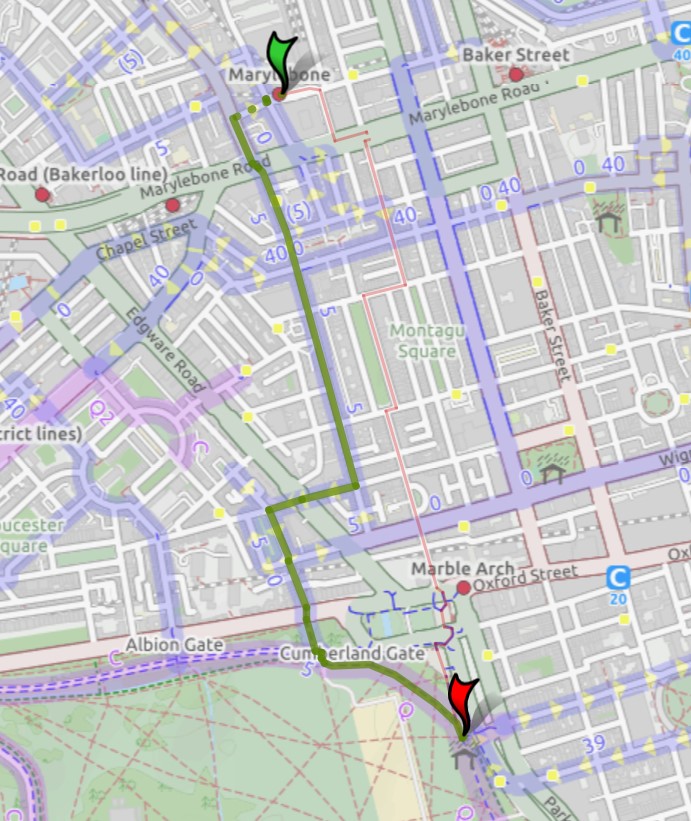 Follow the green line for a gentle ride from Marylebone station to the start of the new Park Lane cycle route; turn-by-turn instructions available from here
Getting on to this main cycle network from Marylebone is slightly tricky; the good news is that plans are underway for a proper cycleway, the bad news is this will take a bit of time to be built. Instead it's a slightly twisty, but pretty straightforward 10 minute ride through some quiet back streets to get to Hyde Park, at which point you can get on the lovely brand-new Park Lane route which runs from Speaker's Corner down to Hyde Park Corner, where it joins the main segregated cycle network.
Marylebone is the dark blue circle in the above picture of Central London – all the blue, pink and red lines are cycle routes! Wherever your journey is taking you in the UK it may be worthwhile checking out your options for completing the last mile of your journey by bicycle.
Tips for getting cycling
Now that you've hopefully found a route, here are some tips and tricks for having a great cycle ride!
Getting ready to cycle is as easy as ABC – check the Air in your tyres (give them a pinch – if they're firm you're good to go), check your Brakes (if you hold down the brakes and try to wheel the bicycle forward it should stay still), and finally check the Chain to make sure it's working – give it a squirt of oil if it's creaky. Cycle hire is also a good option, and there is a stand of TfL hire bicycles just outside the station on Boston Place and another on Dorset Square.
Wearing a helmet isn't mandatory, but it is a good idea. Having lights on your bicycle is a must in the winter months, and you may also want to wear reflective clothes to make sure that you're seen easily. Do be respectful of others, particularly pedestrians if your route takes you onto shared space.
Signal your intentions clearly when cycling, on roads and on cycle paths – put your right arm out to show others that you're going to be turning right, for example. Making eye contact with others is a good way to make sure people have seen you. Stay alert of your surroundings, for example glancing back over your shoulder to check if anyone is behind you before turning or overtaking someone (this counts for dedicated cycle paths as well as roads!). And most importantly – give HGVs and buses plenty of space and stay away from their blind spots, particularly the left side of the vehicle.
Other that, it really is as easy as riding a bike – so get out there, wave goodbye to the Tube and finish your commute in socially-distanced style!