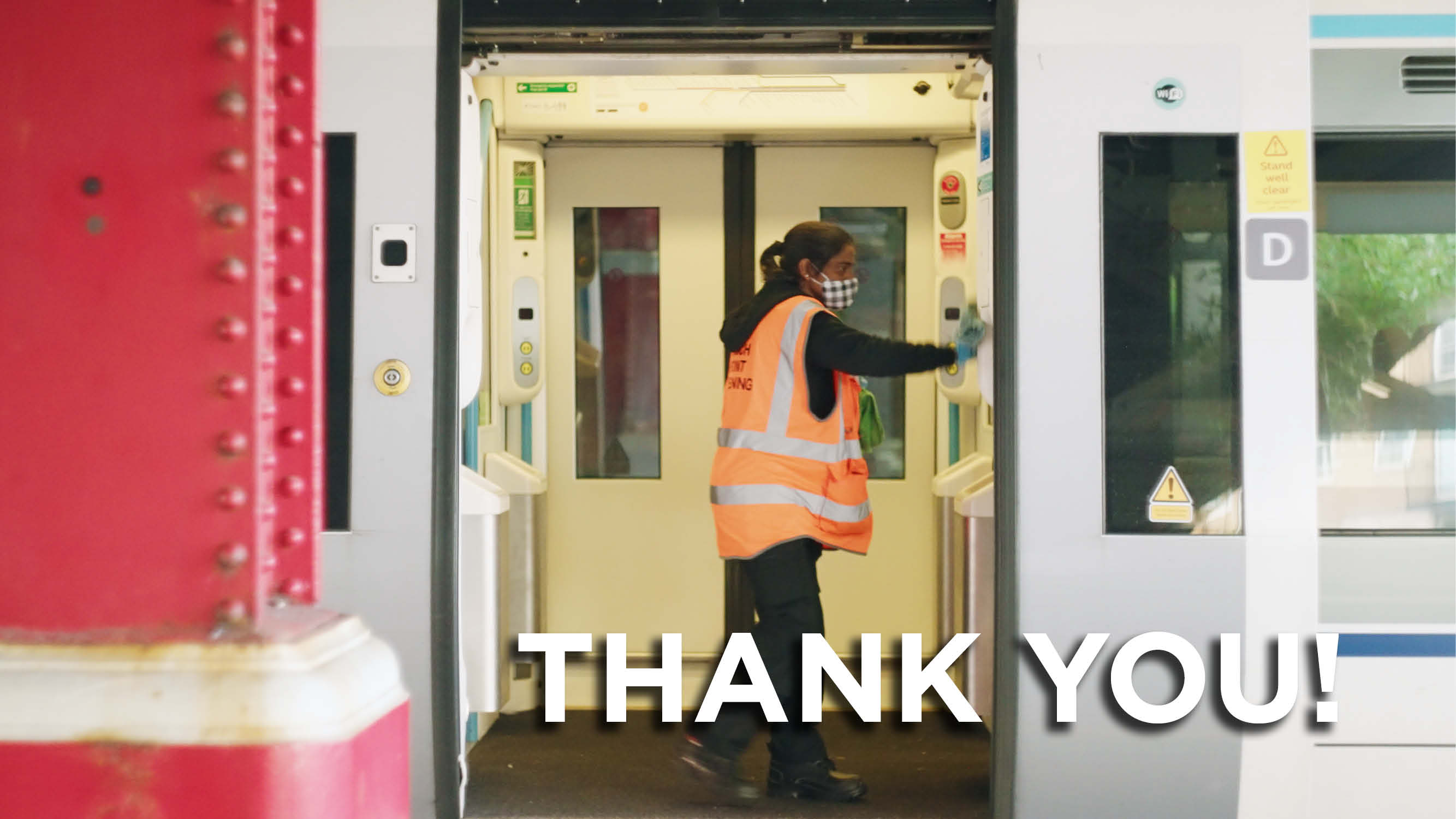 On Wednesday 20th October 2021 we are celebrating Thank Your Cleaner Day, an international day to take time to appreciate the hard, often unseen, work cleaning teams undertake.
Here at Chiltern Railways, we have always been tremendously proud of our cleaning teams, who take great pride in their work to ensure our services and stations are clean, safe and welcoming to both customers and staff alike. Although this work has always been quietly undertaken in the background, it has been forced to the spotlight during the Covid-19 crisis, where our teams have had to simultaneously adapt to new equipment, cleaning methods, working rosters, and timetables, to mention a few! They cover 24hrs a day, 7 days a week and ensure every single day has been covered pre, and during, the coronavirus pandemic.
Here is a quick round up to explain how our stations and services are cleaned, and further demonstrate how truly amazing our cleaning teams are:
Daytime Activities
Our static station teams cover every station and depot on our network, with each location covered by a Supervisor. They carry out a systematic flow clean across each station as well as:
Cleaning of all accessible internal and external glazing
accessible signage
graffiti removal
high level dusting
vacuum of all accessible areas
power washing of identified stairwells,
bike racks / canopies
pillar cleaning
platform and carpet cleaning
Simultaneously, we have teams based at Aylesbury, Marylebone, Oxford and Birmingham Moor Street platforms to increase the disinfecting of common "touch points" onboard trains. Once a train has arrived at their station, a member of the team will board the service and cleanse all vulnerable surfaces with an approved agent, proven to deactivate the coronavirus and reduce potential virus transmission. This key activity includes toilet compartments, handrails, buttons, tables and armrests, as well as all other high-touch areas.
Working alongside Touch Point cleaners are Turn Around Cleaners, who are based at end destinations on our route. They are tasked with boarding trains and:
removing refuse,
cleaning spillages,
carrying out visual security inspections, and
ensuring the train is clean and safe prior to its next service.
These teams have been bolstered in number to ensure the maximum number of services are captured.
Additionally, on-Board Cleaners are in place to the north of the network, (between Banbury to Stratford-Upon-Avon). They are tasked with:
boarding,
passing through the train,
clearing litter,
cleansing Touch Points,
cleaning the toilet compartments, and
assisting customers where possible.
Their invaluable presence promotes reassurance and is part of a genuine effort to provide safer, cleaner trains to all who travel with us.
Night Activity:
While most of us are tucked up under our duvets, train cleaners at Chiltern Railways are working hard to ensure our trains and stations are safe, clean and presentable for next day travel. At stations and depots, our static teams carry out a systematic flow clean and:
Cleaning of all accessible internal and external glazing
accessible signage
graffiti removal
high level dusting
vacuum of all accessible areas
power washing of identified stairwells,
bike racks / canopies
pillar cleaning
platform and carpet cleaning
For our trains, any train that has been in service will end at a location where it can receive a full Berth Clean as a minimum. A Berth Clean, which is carried out using a series of approved detergents, consists of:
the removal and recycling of litter,
vacuuming of carpets and upholstery,
interior window and partitioning glass cleaning,
panel cleaning,
removal of any graffiti,
replenishment of toilet tissue, paper, soap and toilet gels,
the cleaning of the toilet cubicles including all surfaces,
the cleaning of driver cabs,
mopping of all hard floors, and
cleansing of all touch points (items most likely to have been touched by people,) using a scientifically proven laboratory tested COVID-19 combatting chemical.
Each weekday night will also see a selection of trains receive a Heavy Clean. This work will see a magnified version of the Berth Clean take place, with additional scrutiny of all train areas applied by the staff that carry out the work. For context, a Heavy Clean being carried out by one person should take up to three hours to complete per carriage. This includes:
panels and flooring scrubbed, including ceilings and luggage racks,
chewing gum removed,
upholstery replenished, and
all Touch Points disinfected.
Another key additional task that takes place in the night is carpet cleaning using industrial carpet cleaning systems that extract dirt using powerful, fit for purpose detergents.
Exterior Cleaning of the fleet requires a physical scrub of the exterior of the train body using detergents designed to remove dirt and staining, some of which can be caused by brake pad residue that sticks to the coach bodywork. The work, like other train cleaning types, is physically demanding and requires a lot of effort on the part of the operatives.
During the dead of night train cleaners tackle a variety of train cleaning tasks on differing classes of train in the Chiltern Fleet that comprise of 165, 168 and Locomotive hauled MKIII train sets. All of the work is carefully planned and executed by way of safe systems, mindful of the often regular train movement around the sites.
So the next time you travel on one of our trains, do so in the knowledge that there are dedicated cleaners working as we travel and sleep, to make your journey safer, cleaner and more pleasant.
THANK YOU, CLEANERS!