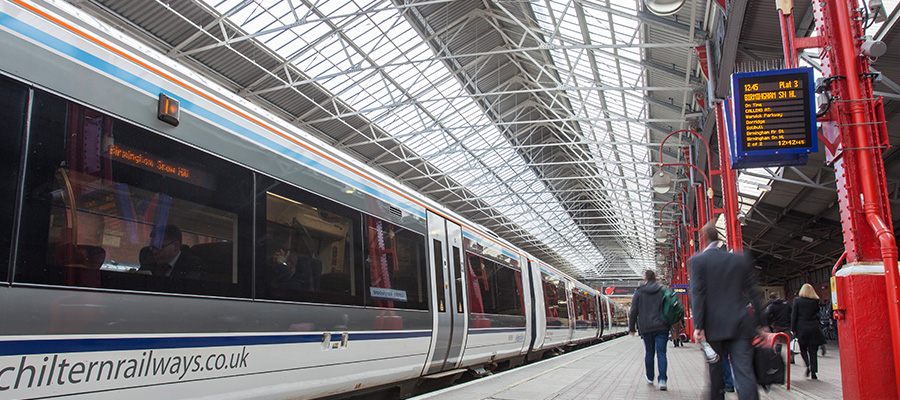 The NRPS is commissioned by the independent body Transport Focus, who represent the views of rail passengers nationally, and is based on analysis of overall satisfaction and 30 individual aspects of service. 91% of customers in the Midlands and 90% in Oxford said overall, the Chiltern Railways service was good or satisfactory and across the whole route 90% of customers felt the same, against a national average of 81%.
Chiltern Railways Managing Director, Dave Penney, said:
"Only last week ORR data was released showing Chiltern passenger journeys were up by 6.4 per cent against national decline, and we attribute this to our commitment to customer service and consistent innovation.
"Though we welcome positive feedback, we are committed to improving the areas of our service where the NRPS has shown we can do a better job.
"In response to passenger feedback and given our commitment to continuous improvement, we've already invested £2 million in new ticket vending machines to make travelling with us easier. We have also upgraded our website and App, to make it a one-stop-ticket-buying-shop for passengers and we continue to develop this App based on what passengers tell us.
"The findings of this round of the NRPS reinforce our commitment to investing in the provision of a high-quality passenger experience and continuous improvement so we are also very pleased that the NRPS reveals increased customer satisfaction with wi-fi availability and toilet facilities.
"Chiltern Railways is always looking to enhance the service for customers, which is why we invest in continuous improvement of punctuality, comfortable seats and reliable wi-fi that they rightly expect.
"This round of the NRPS demonstrates the hard work of our teams, but we want to do more to give our passengers the experience they deserve by enhancing parking facilities, and ensuring we never give up on improving punctuality. We have plans to invest in our stations and we are investing a further £2 million in new ticket offices and station facilities over the coming year."