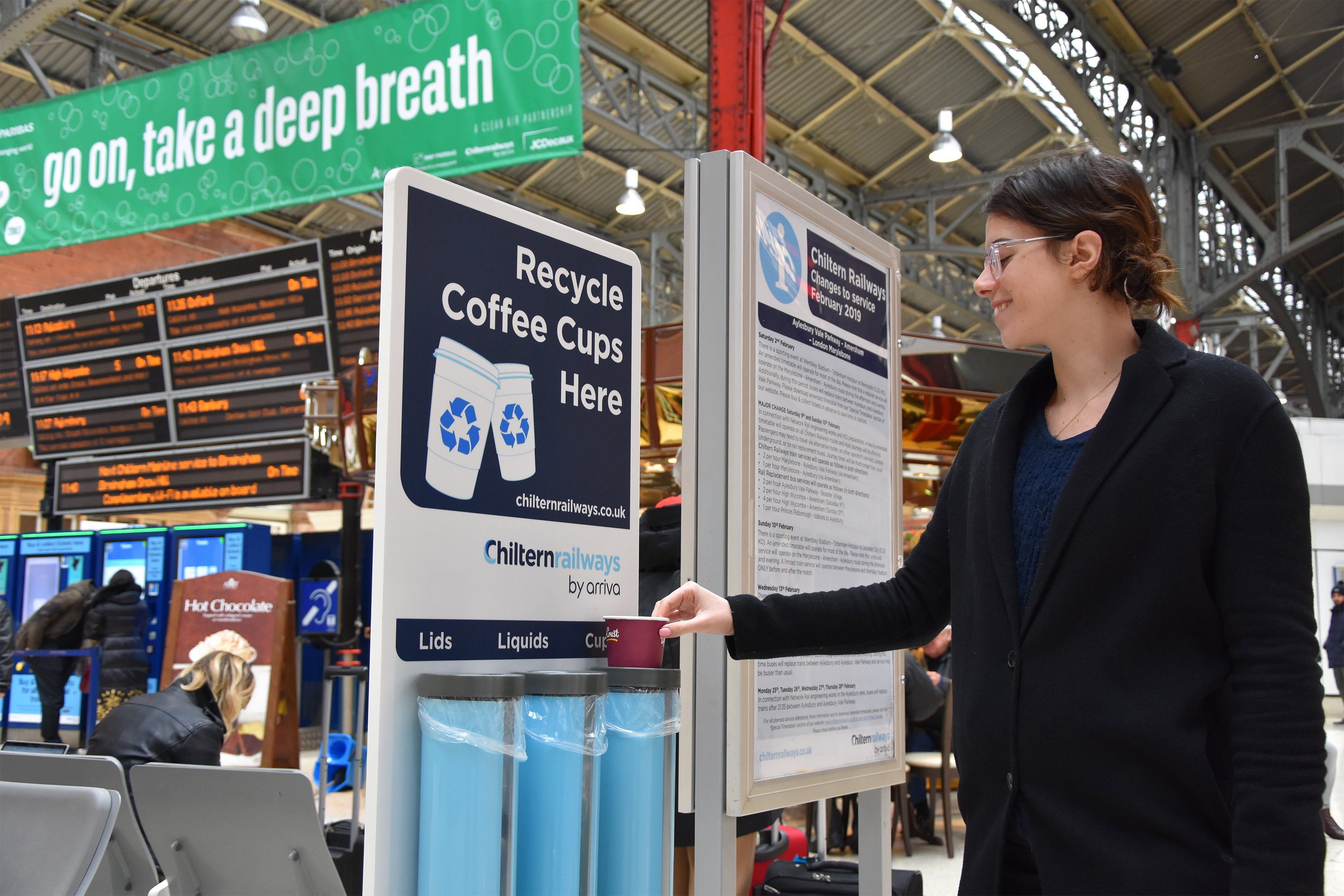 At Chiltern Railways, we know that we have to look ahead if we're to safeguard the requirements of generations to come. We've worked hard over the last 18 months to take our sustainability agenda to the next level, applying creative solutions to real problems in order to make a real difference.
In February last year, after research revealed that just one in 400 takeaway coffee cups in the UK were being recycled, we introduced the UK rail industry's first-ever coffee cup collection and recycling service to help tackle this growing problem. The recycling stands at Marylebone station ensure our customers can easily dispose of their cups, lids and liquid while preventing any cross-contamination of waste. Additionally, working with Simply Cups, all waste materials collected are taken to UK-based recycling facilities, where they're processed and turned into new products including stationery and reusable coffee cups. Over 110,000 cups have now been recycled.
In October 2018, we partnered with BNP Paribas, JCDecaux, and Airlabs to make Marylebone Station home to four permanent, large clean air zones. Four traditional Out of Home (OOH) advertising hoardings were adapted to emit clean air in areas where people wait for trains, significantly improving air quality and creating a healthier environment. The filter systems remove harmful particulate matter and nitrogen oxides from the air our customers breathe.
Last year we also completed an LED light replacement programme, replacing all standard lighting across our entire network, including at depots, offices and access routes, with more energy-efficient and carbon-cutting LEDs. Our teams worked overnight to ensure minimal disruption to our passengers, replacing over 5,500 bulbs which will reduce our CO2e output by over 600,000kg - the equivalent of travelling between Birmingham Moor Street and London over 14,200 times.
This year Chiltern Railways are very excited to be working with partners on trials for battery hybrid trains which will reduce emissions further.