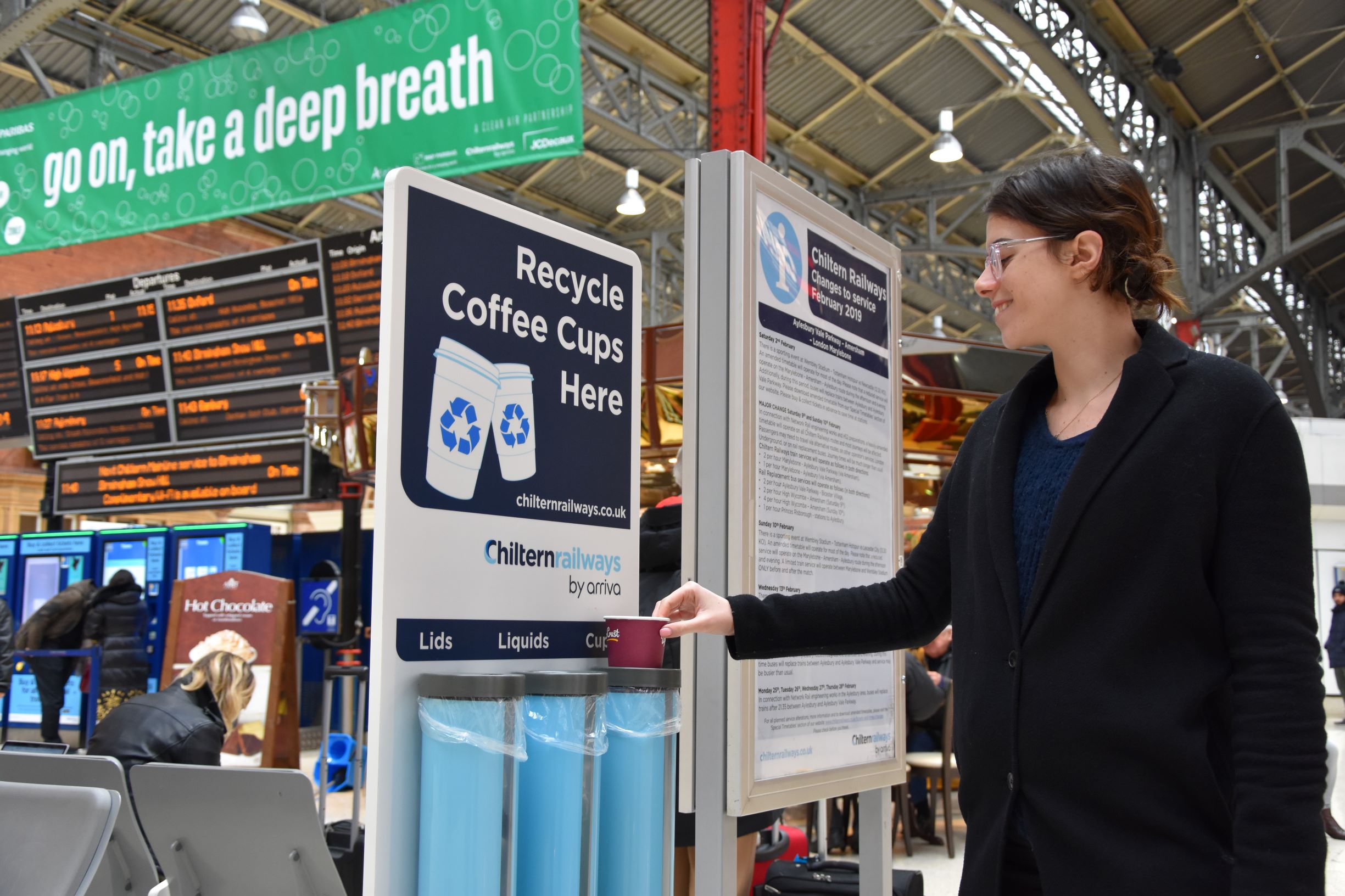 Chiltern Railways has become the UK's first train operator to implement coffee cup recycling at its stations. With the official launch at Marylebone station, London, on February 12th, the rail company is working in partnership with its facilities partner Aktrion Facilities and Simply Cups, the UK's first and leading nationwide cup collection and recycling service.
The scheme will see the installation of special bins at Marylebone which will encourage customers to segregate their coffee cup waste into three categories; lids, liquids and cups. The used cups, will be collected by Simply Cups who will then give them a second life by turning them into functional new products such as pens, notepads and the world's first reusable cup made from used cups, the rCUP, which Chiltern Railways will incorporate into its branded merchandise.
Ten bespoke branded bins are now in location at Marylebone station from which its is estimated that around 300,000 cups will be collected and recycled annually.
Alan Riley, Customer Services Director for Chiltern Railways, said:
"With the knowledge that over 5 billion paper cups are making their way into landfills and incineration each year, we feel it is our duty to set a standard of excellence for the rail industry and provide our customers a guaranteed way of recycling their used cups. This scheme is the first of its kind in the rail industry and, while we're proud to be championing it on behalf of our customers, the hope is that this is quickly adopted across other parts of the rail network"
"For train and station operators, single-use coffee cups have quickly become a major constituent of their overall waste", said Peter Goodwin, Co-Founder of Simply Cups.
"They not only quickly jam up bins but also pose a real recycling headache since they are often mixed with other waste streams. Customer confusion over which type of bin to use is also rife. We hope to solve bother these issues through placement of our newly-designed bins at stations that will make it far simpler for customers to put their used cups in the right place".
Peter added further "The initial trial that has been running since mid-January has proved that there is real consumer appetite for cup recycling. If the bins provided are functional, obvious and located in the right place consumers will use them. And if they want to finish their drink on the way to work, there's a good chance that, with the growth of our scheme, they can also recycle them at their office too".