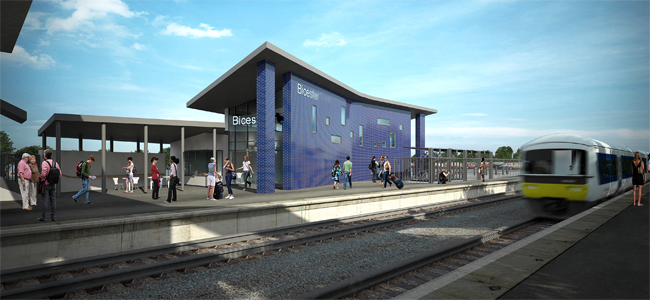 This October a new station will be open in Bicester.
This will form part of the new line now being built between Oxford and London.
It is the first rail link between a major British city and London for over 100 years, with direct trains serving Oxford Parkway and London Marylebone.
Bicester Village outlet centre will be directly accessible from a new entrance on the station platforms.
Our decision to call the new station Bicester Village.
And here's why:
The roads around Bicester are congested. The more visitors that can be encouraged to travel sustainably (ie. by train), the more pressure will be removed from local roads. Visitors are more likely to visit Bicester Village by train with a clearly named direct station.

More (sustainable) visitors will create jobs and encourage wider employment opportunities. This will increase passengers on our off-peak trains from London that would otherwise be empty, thereby helping to hold down train fares for everyone.

Naming the station after the major visitor attraction will make it easier for visitors to go to the right place. Just as Wembley Hill station was renamed Wembley Stadium, it makes sense to name the station after the place most people are going to.

With two stations in Bicester, it could be confusing and potentially costly for those trying to get to Bicester Village to travel incorrectly to Bicester North. A station named Bicester Village will avoid this and make it far easier for visitors. The decision has been shaped by consultation with residents and officials and was followed by an independent survey of Bicester households. A public meeting highlighted strong feelings amongst some residents who felt the name Bicester Town should be retained.
Frequently asked questions
Q : Tell me more about the survey and how it was conducted.
A : We know the issue is emotive and we wanted to get behind the emotion and check the opinions of regular people in Bicester. We therefore commissioned an independent survey of Bicester households carried out by a reputable market research agency. The participants were chosen completely at random and did not self select. We also ensured that we geographically and demographically weighted the survey so that it would accurately reflect the Bicester population. The research agency interviewed 200 households out of the 50,000 population. This is a much higher coverage than the norm for general election opinion surveys, in which 1,000 people are surveyed out of the national 60 million population. The survey conducted is detailed at the bottom of this page.
Q : When will the new station open?
A : It will open in October 2015 when we launch our new service between Oxford Parkway and London.
We commissioned our survey through the independent research agency, Wavelength Insight. Residents were selected at random from households within a two mile radius of the town centre. They were asked the following questions.
No
Question
Answer
1
Have you travelled by train to or from Bicester North station in the last 12 months or so?
Yes/No
2
How often do you use Bicester North?
Several times a week/Once a week or so/Once or twice a month/Once every 2-3 months/Once every 4-6 months/Less often
3
As part of the new Chiltern Railways Oxford project, the old Bicester Town station has now been demolished and a brand new station is being built in its place. Were you aware of this?
Yes/No
4
And did you travel by train to or from Bicester Town station before it was closed?
Yes/No
5
How often did you use Bicester Town station?
Several times a week/Once a week or so/Once or twice a month/Once every 2-3 months/Once every 4-6 months/Less often
6
Do you agree that naming the stations to better reflect their respective proximity to Bicester Village shopping centre and the main station car park would help reduce the traffic in Bicester?
Yes/No/Don't know
7
There is a suggestion that the station that is being built on the old site of Bicester Town station, could be called Bicester Village. Which of the following best reflects your view on this proposed change?
I am strongly in favour of a change to Bicester Village/ I am slightly in favour of a change to Bicester Village/ I don't really mind either way/ I am slightly in favour of keeping the name Bicester Town/ I am strongly in favour of keeping the name Bicester Town
7a

All in favour of keeping the name Bicester Town

And if the new station was named Bicester Village, how likely would you be to raise an objection to this?

Very Likely/Fairly Likely/Neither Likely nor Unlikely/Fairly Unlikely/Very Unlikely
8
And as I also mentioned earlier, there is a suggestion that the station that is currently called Bicester North could be renamed Bicester on the basis that it is closest to the town centre. Which of the following best reflects your view on this proposed change?
I am strongly in favour of a change to Bicester / I am slightly in favour of a change to Bicester / I don't really mind either way/ I am slightly in favour of keeping the name Bicester North/ I am strongly in favour of keeping the name Bicester North
8a
Ask: All in favour of keeping the name Bicester North And if Bicester North station was renamed Bicester, how likely would you be to raise an objection to this?
Very Likely/Fairly Likely/Neither Likely nor Unlikely/Fairly Unlikely/Very Unlikely
9
An alternative station name for Bicester Town is Bicester South & Bicester Village. Which of the following best reflects your view on this proposed change?
I am strongly in favour of a change to Bicester South and Bicester Village/ I am slightly in favour of a change to Bicester South and Bicester Village/ I don't really mind either way/ I am slightly in favour of keeping the name Bicester Town/ I am strongly in favour of keeping the name Bicester Town
custom css
#table{ width: 100%; border-collapse: collapse; margin-top:0px; } table tr th{ background: #1fb7e1; color: white; text-shadow: none; border-top: medium none transparent; border-right: 1px solid; } table tr:nth-of-type(odd) { background: #eee; } table td, table th { padding: 6px; text-align: center; } table td{ border: 1px solid #ccc; }