10 Oct 2017 15:49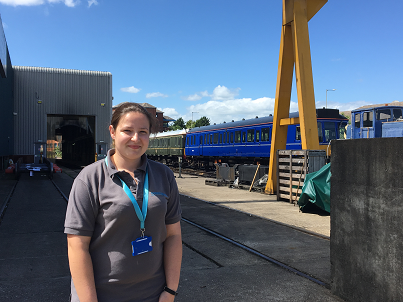 What do you do in your current job?
I basically look at how often trains break down.
Do you like your job?
Yes. Every day has its own challenges. Trains break down in all sorts of ways. You see something new every day that you didn't know was possible!
What was your path into Engineering?
I'm not from an engineering background. But as a graduate, I spent time in lots of departments. I really liked Engineering.
What did you study at university?
Maths and Chemistry.
Did you have a plan at university?
Not really. I did Maths and Chemistry at A-level. One of my teachers said to me, "you'll be bored if you take a full degree in Maths. Challenge yourself a bit."
What's your dream holiday destination?
Somewhere hot and sunny, but not too sunny because I burn easily. I'm not sure if that exists!
What gets you up in the morning?
The alarm clock. I'm not one of these people with a snooze button. I like coming into work. I like chatting to the people around me. I like seeing what fun the trains that broke down yesterday will cause me today!