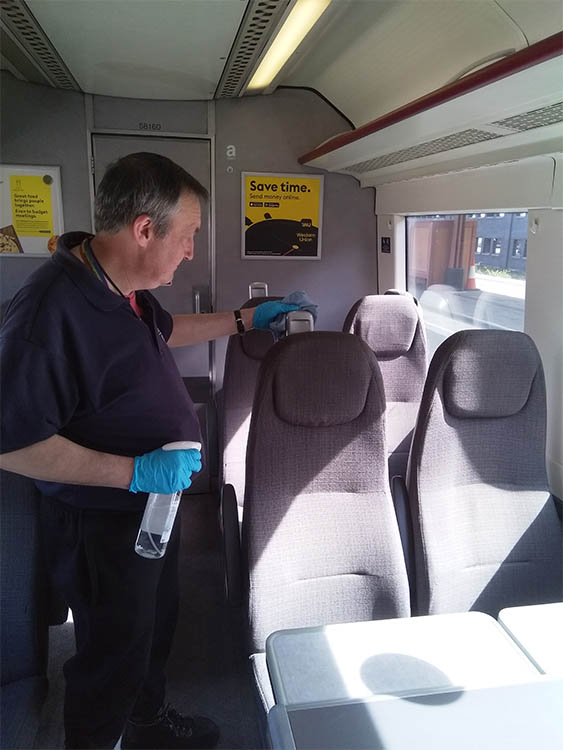 Chiltern Railways has taken extra steps to keep people safe onboard trains and at stations with the introduction of new 'Deep Cleanse' teams. The train operator is supporting the rail industry's Safer Travel Pledge which vows to maximise space, boost cleaning, help with hygiene and improve information to ensure passengers can travel safely.
'Deep Cleanse' teams are now in place at London Marylebone, Aylesbury, Oxford and Birmingham Moor Street stations to clean services before they depart – these include any objects or areas that may have been touched by individuals during a journey. This deep cleanse is in addition to the turnaround cleaning that the team already undertake throughout the day at Marylebone, Birmingham Moor Street, Oxford and Aylesbury.
As well as additional deep cleaning, Chiltern Railways have installed hand washing facilities at Marylebone station in order to help customers maintain good hand hygiene while travelling on public transport and introduced one-way systems and entry and exit only access in some stations.
Denis O'Sullivan, Train Presentation Manager at Chiltern Railways said, "My team and I are working hard throughout the day, deep cleaning every train that enters services using special products that are laboratory tested to kill the COVID-19 virus. We know how important it is to protect our customers and I am confident that the very best is being done to keep everyone using Chiltern trains safe."
Mary Hewitt, Interim Managing Director for Chiltern Railways said: "Customer safety and the safety of Chiltern Railways staff are of the utmost importance to us as we increase the number of services we provide. Our Train Presentation department have worked tirelessly since the start of the Coronavirus outbreak to keep services clean and have implemented stricter onboard cleansing regimes using enhanced cleaning methods and equipment to protect customers. I would encourage passengers to stay safe while travelling on public transport and wear a face covering if they are not exempt on medical grounds."