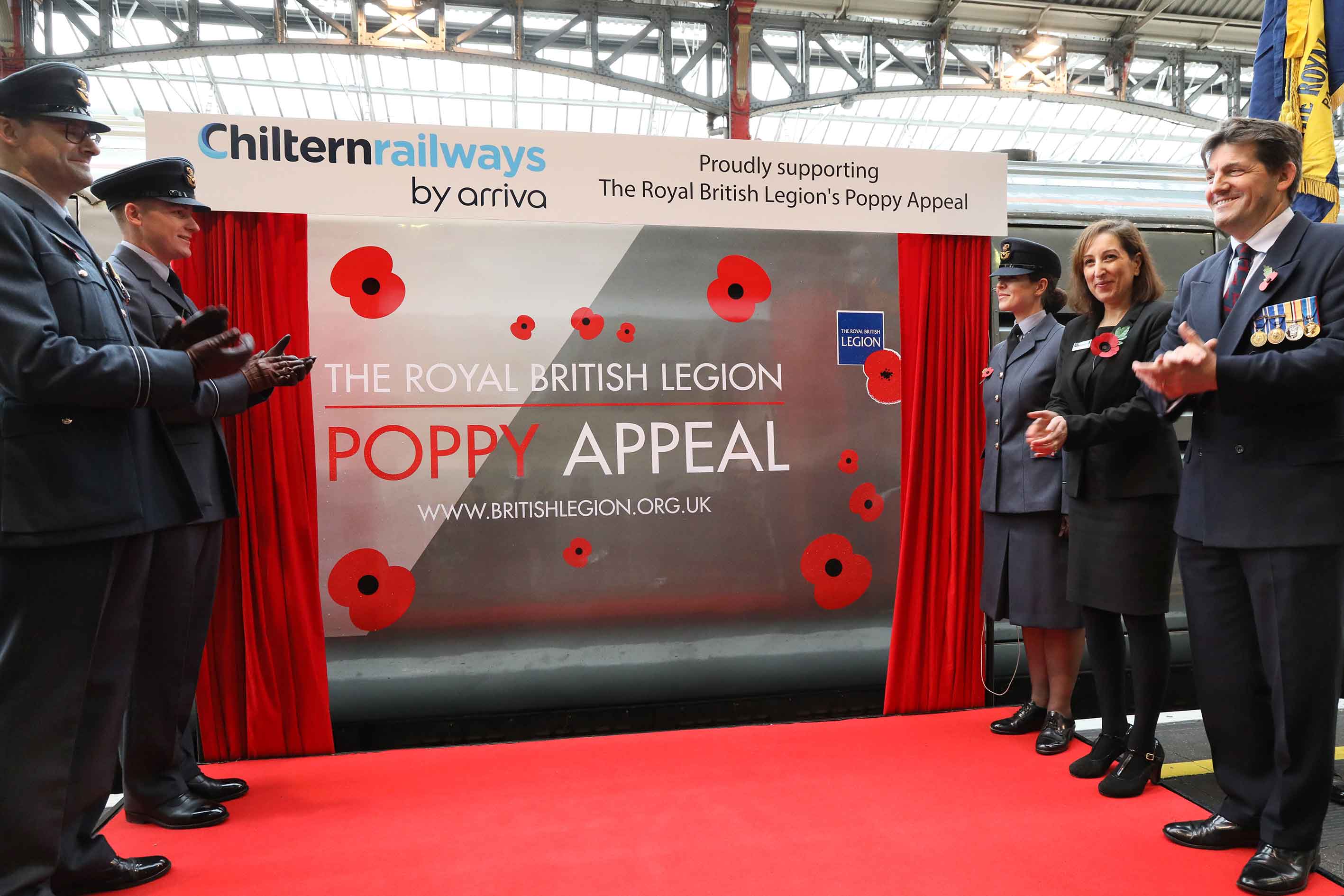 • Poppy train will be seen by passengers across 14,018 miles during November signifying the sacrifices made by service personnel in the 1914-18 war
Chiltern Railways has unveiled a special train at Marylebone station today to mark the centenary of the end of World War I and remember the sacrifices of all those who have served in the Armed Forces, while raising much-needed funds for the Royal British Legion.
The train was officially unveiled at an event on London Poppy Day, which saw the band Brigade of Gurkhas and Chiltern employees who were in the military see off the train which formed the 11.10 service to Birmingham Moor Street.
Eleni Jordan, Commercial Director of Chiltern Railways said: "We wanted to do something special to honour and remember those who made the ultimate sacrifice on the anniversary of the end of the First World War. "Our special poppy train will travel 14,018 miles in November and will reach thousands of people. We will also be raising money throughout November by collections at our station and will encourage people to show their respect to those killed or injured in the defence of their country."
The train company worked with the Royal British Legion and Charles Rayner Ltd who generously donated the train vinyl.
Claire Rowcliffe, Director of Fundraising at The Royal British Legion, said:
"During the Poppy Appeal 2018 and as we mark the end of the First World War centenary in this historic year, we are calling on the nation to say 'Thank You' to the First World War generation. Not only to the British Armed Forces, but those who fought alongside them from today's Commonwealth, the countless men, women and children who played their part of the home front and the pioneers and artists who have left long lasting legacies.
"We are very grateful to Chiltern Railways for their support and to those members of the Great Western Railway who played an important part on the Western front in the World War One."
Steven Grimes, Director of Charles Rayner Ltd said: Our company are honoured to be involved in the London Poppy day event, our thanks go to the armed forces and to Chiltern Railways and The Royal British Legion for involving us in this very special project."
In addition, to this the railway company has also re-released a video which depicts the experiences of nine of the Marylebone railwaymen who fought in the Great War. The video is based on letters found in the National Archives from members of the Great Central Railway sent back from the Western Front to Marylebone Station. Watch these short stories here: https://www.youtube.com/watch?v=vAXG7nD5bnM