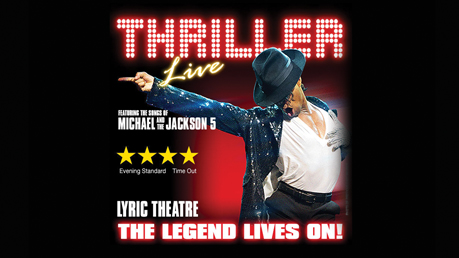 Come and celebrate the wonderful career of the world's greatest entertainer - Michael Jackson - with the West End blockbuster THRILLER - LIVE, a stage and video spectacular.

This amazing show, featuring over 20 performers with a full company of singers, dancers and live band celebrates the King of Pop like never before! Take your seats and boogie on down as the cast belts out song after wonderful song, covering the early Motown and Jackson Five days right up to the solo successes that made such an impression on generations of music lovers. And the dance sequences are simply breath-taking.

Admission: £72.50
Opening times:
OFFER TIMES:

Up to 29 September 2018
Tuesday - Thursday 19.30

**Offer is not valid 28 May - 1 June 2018**

Exclusions may apply.

Opening times may vary. Please check website for details.

Phone number: 0800 912 6959
Is free: No
Has disability access: Yes
Has discounts for families: No
Has discounts for groups: No