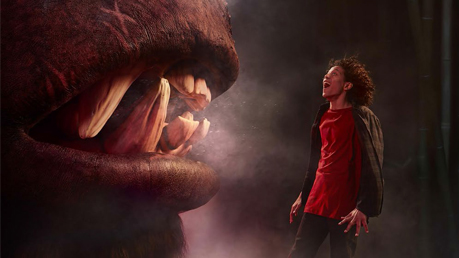 Offer valid from: 2015-04-01Offer valid to: 2017-10-31
2FOR1 Admission: £35*

OFFER TIMES: Varies daily between 10.00-16.00

Please check www.madametussauds.co.uk/london/en/plan-your-visit/opening-times/ for details.
*Price is subject to change.
Applicable for Madame Tussauds 2FOR1 Offer
1. The voucher is not valid when making advance credit card bookings or on purchase of timed tickets, Priority Entrance or Family Tickets.
2. For technical or other reasons some figures may be removed, or parts or all of the exhibition closed.
3. This voucher will only entitle an individual to free entry when they are accompanied by a person, who is 16 years or over and who pays the applicable full adult rate.
--- Important Note ---
Madame Tussauds London is extremely popular. To guarantee your entry we strongly recommend that you pre-book a time slot for your 2FOR1 day out. You can do this through daysoutguide.co.uk by clicking on the BUY ONLINE button
Madame Tussauds London Full Terms and Conditions
This voucher entitles holder to one FREE ENTRY per voucher, per full paying adult.
Offer is valid until 31 October 2017. Offer excludes all secondary ticketed events, hotel events and concerts. Check opening dates and times before visiting on the attraction

website

. All dates subject to change.

Voucher can only be used for standard entrance tickets and cannot be used for priority entrance or Fastrack entrance.

Voucher not valid at secondary attractions or any combination tickets.

Adults are aged 16 and over. Entry is free for all children under the age for 3.

Guests

15 years

or younger must be accompanied by a Guardian

18 years or older.

Size, height, weight and ages restrictions and medical warnings apply to certain rides and/or attractions.

Features and/or creatures shown in advertising of the 2FOR1 offer are not necessarily available at the Attraction.

Attraction information is subject to change; please check the Attraction

website

before your visit for the latest information.
Entry to the Attraction is subject to the terms and conditions of entry, as specified on the Attraction

website

.

The Attraction reserves the right, in its absolute discretion, to refuse entry and to close and/or alter all or any part of the facilities, including closure of rides and/or attractions and the right

to remove and/or alter figures/experiences for technical, operational, health and safety or other reasons without prior notice.

For further queries regarding these terms, please call 0871 894 3000

.

Calls cost 13p per minutes plus your provider's access charge. For attraction information please visit

https://www.madametussauds.co.uk/london/en/

Full term & conditions can be found here
Online advanced bookings now available!
*Price is subject to change.

Step inside and be immersed in a world of famous fun, from Bollywood to Hollywood, music to sport, social to stardom - where you can even join the royal family for an official photoshoot. Dare you walk the catwalk alongside Cara at our exclusive fashion show?

Or will you adventure onto Skull Island to come face-to-face with King Kong and feel his mighty roar? Sit back and enjoy a ride through 400 years of London's history in our iconic taxi ride before joining the crime fighting team in our Marvel Superheroes 4D adventure.

Or will you use the force to be transported to a galaxy far, far away where you can get in on the action with the greats of the Star Wars universe.

Admission: £35.00
Opening times:
OFFER TIMES:

Varies daily between 10.00-16.00

Opening times may vary. Please check website for details.

Phone number: 0871 894 3000 (calls cost 13p per minute plus network extras)
Is free: No
Has disability access: Yes
Has discounts for families: No
Has discounts for groups: No