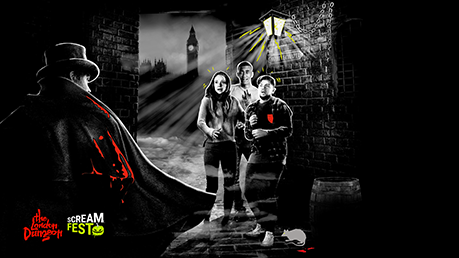 Offer valid to: 2019-04-30
2FOR1 Admission: £30 (Price subject to change)*.
OFFER TIMES: Monday - Friday 10.00-17.00, Except Thursdays, when King Henry sleeps in until 11.00. Saturday 10.00-18.00, Sunday 10.00-17.00
*2FOR1 offer not valid 26 - 27 October 2018*
Closed 25 December.

--- Important Note ---
The London Dungeon is extremely popular. To guarantee your entry we strongly recommend that you pre-book a time slot for your 2FOR1 day out. You can do this through daysoutguide.co.uk by clicking on the BUY ONLINE button.
The London Dungeon Full Terms and Conditions
This voucher entitles holder to one FREE ENTRY per voucher, per full paying adult.
Offer excludes all secondary ticketed events and concerts.. Check opening dates and times before visiting on the attraction website. All dates subject to change.
Voucher can only be used for standard entrance tickets and cannot be used for priority entrance or Fastrack entrance.
Voucher not valid at secondary attractions, including, but not limited to LATES at The Dungeons, or any combination tickets.
Adults are aged 16 and over. The Dungeon is not suitable for very young children. Entry is at the discretion of the parent/guardian.
Guests

15 years

or younger must be accompanied by a Guardian

18 years or older.

Size, height, weight and ages restrictions and medical warnings apply to certain rides and/or attractions.
Features and/or creatures shown in advertising of the 2FOR1 offer are not necessarily available at the Attraction.
Attraction information is subject to change; please check the Attraction websitebefore your visit for the latest information.
Entry to the Attraction is subject to the terms and conditions of entry, as specified on the Attraction website.
The Attraction reserves the right, in its absolute discretion, to refuse entry and to close and/or alter all or any part of the facilities, including closure of rides and/or attractions and the removal of figures for technical, operation, health and safety or other reasons including over capacity.
For further queries regarding these terms, please call 0871 423 2240. Calls cost 13p per minutes plus your providers access charge. For attraction information please visit http://www.thedungeons.com/
Full term & conditions can be found here
VCode V81181
Online advanced bookings now available!

The London Dungeon is a uniquely thrilling attraction that will whisk you way back to the capital's most perilous past. See, hear, feel and (ahem!) smell the chillingly amusing characters of the 'bad old days' as they come to life before you. Will the 19 live shows and 2 thrilling underground rides claim you? Whichever way, it's not looking good for your underwear!
Join Screamfest at The London Dungeon this Halloween
This Halloween, the London Dungeon is going deeper, darker and SCARIER with the brand new Screamfest! We are amping up the scares and thrills on this dark journey through London's perilous past. Brave the Tyrant boat ride as you journey down the Thames in the dark to meet your fate. Step inside Sweeney Todd's infamous barber shop on Fleet Street and let him give your life a short back and sides. Dare you wander through the dark cobbled streets of Plague street? Who knows who or what will be lurking around the corners. Tread cautiously through the streets of Whitechapel, you never know… Jack the Ripper could be lurking just around the corner. Then, you'll be sentenced for your crimes and sent to Newgate Prison where a mysterious, dangerous prisoner awaits. We all know it would be better to hang, on Drop Dead: Drop Ride to Doom.
2FOR1 Admission: £30 (Price subject to change)*

**2FOR1 offer not valid 26 - 27 October**

Admission: £30.00
Opening times:
OFFER TIMES:

Monday - Friday 10.00-16.00
Except Thursdays, when King Henry sleeps in until 11.00.
Saturday 10.00-18.00
Sunday 10.00-17.00

Offer not valid 26 - 27 October.

Closed 25 December.

Opening times may vary. Please check website for details.
Is free: No
Has disability access: Yes
Has discounts for families: No
Has discounts for groups: No