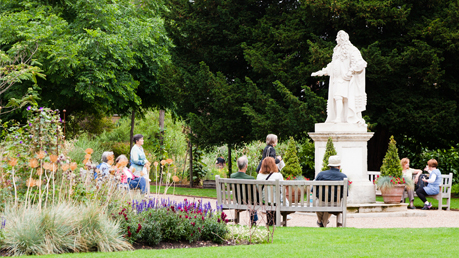 Offer valid from: 2014-05-01Offer valid to: 2017-10-31
2FOR1 Admission: £10.50*
OFFER TIMES:
Tuesday - Friday, Sunday & Bank Holidays 11.00-18.00 or dusk if earlier.

Opening times may vary. Please check www.chelseaphysicgarden.co.uk/visit/opening-times for details.

* Includes voluntary donation
Tucked away beside the Thames, Chelsea Physic Garden is a celebration of the beauty and importance of plants and it's steeped in a rich history.

Founded in 1673 it is one of London's oldest botanic gardens and contains a unique living collection of around 5,000 different edible, useful, medicinal and historical plants within its sheltering walls. This hidden gem is also a peaceful green oasis – enjoy a relaxing stroll, savour lunch or afternoon tea at the award winning Tangerine Dream Café then browse the unique garden gifts in the Book & Gift shop. Be sure to catch a free guided tour of the garden with one of our knowledgeable volunteer guides and find out some of the secrets of our gardens rich history.

The Garden hosts a variety of special and seasonal events over the year. They are inspiring, educational and always fun,highlighting new aspects of our history and collections.
Admission: £10.50
Opening times:
OFFER TIMES:


Tuesday - Friday, Sunday & Bank Holidays 11.00-18.00 or dusk if earlier.

Opening times may vary. Please check website for details.
Phone number: 020 7352 5646
Is free: No
Has disability access: Yes
Has discounts for families: No
Has discounts for groups: No