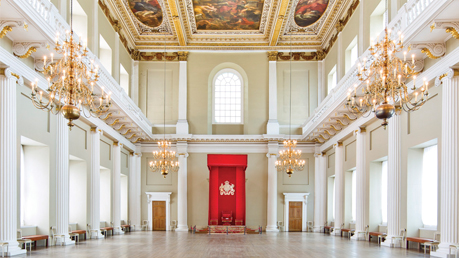 Offer valid from: 2016-04-01Offer valid to: 2017-10-31
OFFER TIMES:
Daily 10.00-17.00
Last admission 16.30

Opening times may vary. Please check www.hrp.org.uk/banqueting-house/visit-us/opening-times-and-upcoming-closures for details.

* Includes voluntary donation of £1.50


This revolutionary structure was the first in England to be built in a Palladian style. It was designed by Inigo Jones for James I, and work finished in 1622.

Intended for the splendour and exuberance of court masques, the Banqueting House is probably most famous for one real life drama: the execution of Charles I which took place here in 1649 to the 'dismal, universal groan' of the crowd. One of Charles's last sights as he walked through the Banqueting House to his death was the magnificent ceiling, painted by Peter Paul Rubens in 1630-34.

Free admission for children under 16.
Admission: £8.00
Opening times:
OFFER TIMES:

Daily 10.00-17.00
Last admission 16.30

Opening times may vary. Please check website for details.
Phone number: 0844 482 7777
Is free: No
Has disability access: Yes
Has discounts for families: No
Has discounts for groups: No